Getting Your Kids Into Giving Back: 8 Reasons It's So Important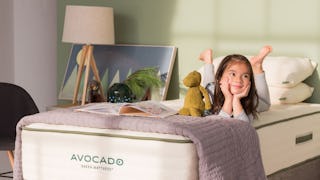 Research suggests toddlers as young as 18 months old understand when someone needs assistance and will do their best to help, even without the promise of a reward. If you've ever watched two toddlers fight over a toy, you're probably giving me side-eye right now. But it's true: kids have a natural tendency toward generosity and altruism, and with a little encouragement they can grow into adults who see giving as a privilege and not a pain.
Here are some easy ways to encourage your child's interest in giving back and doing their part to create stronger communities and a healthier planet.
Start Where They Are
Leaning into our generous natures is easiest when we're participating in ways that are meaningful to us. So if your child is an animal lover, they may want to collect blankets to donate to a local animal shelter. Connecting their interests with opportunities to give back supports the idea that giving back is its own reward. Letting kids guide their giving is also less of a top-down approach, so it builds their sense of agency and ability to make a difference.
One of the easiest – and most enjoyable – ways to encourage curiosity about the importance of giving back is through story, and the story of our planet is one we're all part of, everyday. The Little Blue Planet is an original children's book from Avocado Mattress. It tells the story of climate change and the one home we all share, in a way that inspires while it educates kids on living more sustainably. All profits are donated to 1% for the Planet.
Encourage Curiosity About Sustainability
As kids get a little older, they can begin to understand that the decisions they make as consumers come with responsibility. A critical part of shopping responsibly is asking "What's the impact, and what difference does it make?" Encourage them to make choices that are better for their health and the health of the planet.
An effortless way to practice what you preach is by buying your family's mattresses and bedding from Avocado. Avocado Green Mattress are eco-luxury organic certified mattresses and bedding handmade in Avocado's California factory. Avocado's mattresses are made with GOLS organic certified latex, and GOTS organic certified cotton and wool ethically and sustainably sourced directly from herders in the Himalayan Mountains and growers in India.
Avocado is Climate Neutral Certified, and in 2020 they went "carbon negative." That means they've reduced their carbon footprint at every step of the mattress making process — all the way from their farms in India to their California factory to your home. As members of 1% for the Planet, they donate 1% of all revenue to environmental non-profits.
Avocado makes mattresses and bedding, as well as a whole range of responsibly-made products. So you can rest easy (get it?) knowing you're using products that help safeguard our planet while you model thoughtful, environmentally conscious decision-making for your kids.
Cook Up Some Love
Lasagna Love is an organization that was started in the middle of the pandemic as a way to "feed families, spread kindness and strengthen communities." It's since grown into a movement where families can help cook for other families or request a meal delivery for their own family. Providing a homemade meal that eases someone else's overwhelm is the giving equivalent of immediate gratification.
Donate And Declutter
Although kids act personally offended when asked to part with them, they all have toys, games, puzzles and books they never touch. Donating gently used toys is a great way to help kids understand how they can give back. (Not to mention the whole life-changing magic of decluttering your home thing.) Donating items they no longer use is a real-life lesson in the power of giving, and also keeps waste out of our landfills.
Clean An Outdoor Space
Taking care of public spaces sparks a feeling of community responsibility, and it's never too early for kids to take part. Maybe you start in your own backyard and then "graduate" to tidying up a park or playground. Cleaning up shared communal spaces fosters a true understanding of the fact that we're all in this together.
Grow Something
The benefits of planting trees — whether in your own front yard or with a community organization — are well known. But simply planting and tending to anything green is good for the planet. Planting a garden and growing your own food also helps kids think differently about food waste and the environmental impact of foods travelling long distances to get to your table.
Share The Bounty
But ask anyone who's done it, and they'll agree growing your own food has a learning curve. Sometimes you end up with way more of one thing or another (looking at you, zucchini) than you can use. That's where sharing comes in. Share with neighbors or, depending on where you live, donate to "free fridges." Community fridges are designed to reduce food insecurity and food waste — and that's good for everyone. Learn more or start your own public refrigerator at Freedge.
Be A Friend
The reality is that the easiest possible way to create stronger, healthier communities is by caring for other people. Sitting with the kid eating alone, or standing up for the kid being bullied may not be a grand, showy gesture. But it makes a real and immediate difference at the most local of levels. And making a difference is the whole point.
Avocado Mattress handmakes certified organic mattresses, bedding and other products with only the best materials. Sleep better, knowing you're doing your part for the planet.
This article was originally published on