Getty Bans Images Retouched To Make Models Look Thinner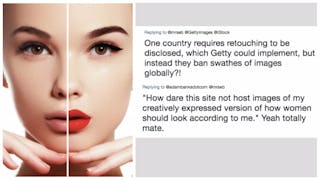 Image via Getty Images/looking2thesky/ Twitter
A French law resulted in a worldwide policy change for Getty
A new law in France is having worldwide repercussions when it comes to altering the body sizes and shapes of models in photos, and we're seriously here for it.
Getty Images iStock, a stock photography source used by media outlets all over the world, emailed its contributors this week to announce that they can no longer submit "any creative content depicting models whose body shapes have been retouched to make them look thinner or larger."
Why? A new law in France, meant to try to curb eating disorders among the country's youth, says that all media outlets must disclose whether photos have been retouched to make the models' bodies look thinner or larger. According to Refinery 29, outlets that don't comply could be fined up to $44,000. The law applies to print, online, posters, campaigns, and catalogs, and even though it only exists in France, since so many French companies use Getty, the policy change affects all of the site's contributors everywhere in the world.
The law goes into affect Oct. 1.
This comes at a time when support for body-positivity is high, and a Getty spokesperson told USA Today that the policy change really just makes official what many photographers have already been moving toward.
"We have been passionate about elevating the ways in which people are portrayed by the media and we have been very clearly communicating this to our contributing photographers," she said. "In fact, we've seen a trend towards stepping away from the hyper-airbrushed, perfect images of the past and a growing demand for intersectional realism."
Great news, right? Most of Twitter thinks so.
But some people (MEN) seemed miffed that Getty will no longer allow photographers to elevate their models to proportions that are completely unattainable to the average person.
Yes, Adam. Progress is horrible.
Yup. Heavy handed. Some women and girls should still be made to feel horrible about the way they look, shouldn't they?
But Twitter did not disappoint, and stood up to those who didn't see the importance of a move like this.
The fact is — we send messages to women every day. And we've been doing it for so long that some may not understand how damaging those messages are: namely, you will never be good enough.
But many understood that, and stood up to cheer Getty's move.
The email Getty sent to its contributors clarified, "Other changes made to models like a change of hair color, nose shape, retouching of skin or blemishes, etc., are outside the scope of this new law, and are therefore still acceptable."