Discarded Pet Goldfish Are Taking Over A MN Lake And They're Giant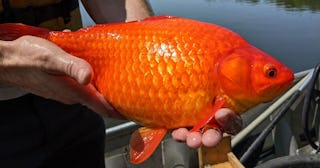 City of Burnsville, Minnesota - Municipal Government/Facebook
Pet goldfish tossed into lakes can grow to be very large and disrupt the local ecosystem
Giant goldfish are taking over a lake in Minnesota because people are (sadly) throwing their unwanted pets in it where they are able to grow out of control.
The city of Burnsville, Minnesota recently posted a warning to local residents who think tossing their goldfish in the lake is a good idea. The municipal government posted a series of pictures of giant goldfish that are causing quite a few issues in Keller Lake. "Please don't release your pet goldfish into ponds and lakes. They grow bigger than you think!" they said, and judging by the pictures, they are not lying.
"Instead of releasing your pet goldfish in a local lake or pond, please consider other options for finding them a new home like asking a responsible friend or neighbor to care for it," they continued, noting these fish are causing "poor water quality by mucking up the bottom sediments and uprooting plants."
I'd like to add that, as a Minnesotan who swims in these lakes on the regular, seeing a goldfish the size of my head during my backstroke sounds like the stuff of nightmares. As a parent, I've taken care of my share of forgotten goldfish won from local county fairs or as gifts at a birthday party (you know who you are and you're still not forgiven), but the lake clearly isn't the best option if you hit your limit of care. In fact, in Minnesota and many other states it's actually illegal.
Burnsville has partnered with the neighboring city of Apple Valley and Carp Solutions to conduct a fish survey on Keller Lake to find out just how big the problem is for these giant goldfish and other invasive fish to determine next steps for removing them.
Burnsville isn't the first Minnesota city to deal with this issue. Last November, wildlife officials found thousands of goldfish swimming in Big Woods Lake in Chaska. And it wasn't one or two — a team removed a truckload of 500,000 of them because of the issues they were causing. Boulder, Colorado and Lake Tahoe, Nevada have also had issues with goldfish taking over local lakes and had to be removed. Last year, a man fishing in South Carolina caught a 9-pound goldfish, clearly not native to the lake he was fishing.
The U.S. Fish and Wildlife Service has some helpful advice if you find yourself ready to say goodbye to your scaly friend. "Help your fish find a home with someone who will care for them. Fish adoption is a real thing!" they said on their website. "Donate your fish to a pet store, school or learning institution, or advertise that you will give your fish away for free. You can also check out online forums dedicated to the adoption of unwanted pets."