Here's The Giant Unicorn Pool Float You Need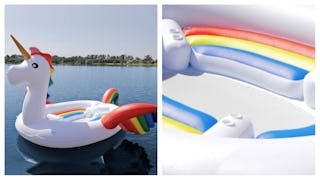 Image via Sams Club
Giant unicorn pool floats exist — and they're everything
Get ready for the most whimsical "Mom's Day Out" ever. You can now purchase ginormous pool floats that fit up to six (!) people at a time and they're shaped like unicorns. That means you're going to need to grab your best friends, buy some sort of fruity alcoholic beverage, and hit the lake immediately.
Sam's Club has released this line of MASSIVE pool floats just in time for warmer weather. When I say "pool," though, I mean it figuratively. It'll be really, really hard to fit any of these contraptions into a standard backyard pool. Also, you're going to need to bring the whole crew around to help blow these bad boys up.
First up, we have the Unicorn Party Bird Island, aka pretty much the most joyful thing you'll ever see. It's 10 feet long x 10 feet wide, rings in at $149.98, and includes six individual cup holders and a cooler. So yes, fruity alcoholic drinks are a must. Also, if your childhood dreams involved owning a unicorn as a pet (no? just me?) – then this is the closest you'll ever get.
Also, just look at that rainbow detail. Magic exists.
If you're not really a unicorn person, there's two other mega-sized animals that might catch your fancy. Like, this neon pink flamingo that is very loud and very adorable. It also offers up six cup holders and a cooler, so you'll be just drunk enough to not even care that you're in public, floating around in a massive pink bird.
There's also the peacock option, which features a purple and blue bird complete with that signature fancy tail. This pool float unfortunately does not come with the cup holder/cooler feature — so maybe purchase this one if you're looking for a more G-rated, family (read: sober) adventure.
Now, go live your best unicorn life possible. You and your mom friends deserve it, damnit.
This article was originally published on