15 Things Coffee Lovers Need In Their Life (Besides Coffee)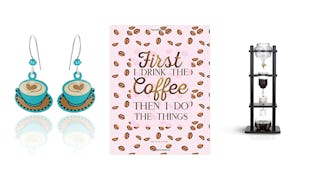 Image credit: Walmart / Amazon
If you know someone who loves coffee more than oxygen, or maybe it's you that would inject it into your veins if you could, here are 15 super cute gift ideas to consider. From latte earrings to coffee soap, this list is sure to include the perfect gift for the coffee lover in your life.
This giant mug is a hilarious gift for someone trying to cut back on their caffeine intake. It follows the "one cup" rule!
Everyone loves a cute notebook where they can journal about their day or jot down to-do lists so they can multi-task like a badass—as long as they drink their coffee first.
Socks always make the perfect gift, so how about some socks that tell your loved ones how you really feel about them?
These adorable hand-painted earrings are sure to make any latte-lover smile as the pay homage to their first love, via earlobes.
A personalized spoon like this one makes a unique, fun gift for anyone who cannot function before their first cup of joe.
Every coffee lover needs a good mug, but there's no mug quite like this one that gives a prescription for coffee. Doctor's orders!
This coffee bean grinder by Barsetto makes a thoughtful gift for someone in your life who wants the aroma and taste of freshly ground coffee, but is stuck at home in their own kitchen with a whining toddler.
With this adult coloring book, the coffee lover in your life can pour a fresh cup of magic bean juice and get to coloring—making for the most relaxing Saturday ever.
Know someone who loves chemistry AND coffee? How about a necklace that has the molecule for caffeine on it? I mean, how perfect is this?!
A portable espresso machine is the ideal gift for a busy coffee lover on the go. Want to enjoy delicious coffee but you're never home? Happy Birthday.
Lots of coffee lovers take their coffee black, but lots don't. For someone who likes flavor in their coffee—like vanilla, amaretto, or caramel—these syrups are a cute gift choice.
I mean, who doesn't love a good treasure chest? Literally no one. But a coffee lover would want this one the most, right?
Sometimes just drinking coffee isn't enough. You may also want to bathe with it. So, coffee soap it is!
Have you ever seen anything cooler than this cold brew coffee maker by Yama Glass? This one might even make a non-coffee drinker switch over!
If the coffee lover in your life also likes to switch over to their other vice around 5 pm, this "before and after" glass would make the ultimate gift.
If you are shopping for someone who thrives on coffee—black, flavored, or French-pressed—there's sure to be something on this list that would make the perfect gift. (And, FYI, taking their kids so they can enjoy their coffee in peace would make your gift super special.)
We may earn fees from purchases made via links on this page and affiliated sites. All opinions are our own.
This article was originally published on