10 Gifts For Your BFF Who Hates Everything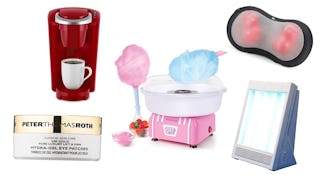 Images via Walmart
Even your BFF who hates everything will think these gifts are super, super dreamy
We all have that one friend who's straight up impossible to shop for. This season, we're going to make it damn near impossible for them not to fall in love with these super practical, cute, and indulgent gifts. Seriously – they won't be able to resist.
Your BFF will have a pretty hard time hating these luxury eye patches. They're infused with 24K Gold, Colloidal Gold and will help reduce fine lines, wrinkles, and crows feet. Nobody can say no to all that wonderfulness.
We all need a little pick me up during these chilly months. This light therapy lamp will help clear up all of your best bud's winter blues. Plus, it was recommended by Columbia University Department of Psychiatry and New York State Psychiatric Institute – so you can't really argue with science.
Nobody can turn their nose up at an ultra cozy weighted blanket. These bad boys are known for improving sleep and anxiety. I'll be ordering one for my fussy friend and three for myself.
Speaking of comfort, your best bud will also definitely appreciate a neck messager that perfectly mimics a Japanese Shiatsu massage. There's even a heating function that will bring plenty of muscle relief. Literally no one is turning down a daily massage that comes with relaxing warmth.
I mean…who doesn't want a good ol' cup of joe? This coffee maker comes complete with glowing reviews and can brew a cup in under a minute. Your BFF's mornings just got so much better.
Who WOULDN'T want a popcorn maker in their house? Bonus points: so many more excuses to have movie nights now.
Speaking of movie nights – this laptop desk will make binging Netflix in bed so much easier. Because your BFF needs to be as comfy as possible while rewatching Gilmore Girls.
Please name ONE person who wouldn't want to own a cotton candy maker. We'll wait.
These foot warmers will make your bud's toes extra toasty AND they feature a very cranky cat. What's not to love?
Does your friend hate everything AND has trouble sleeping? Go with this relaxation sound machine. It has six digitally recorded nature sounds, it's super easy to travel with, and will deliver all the bliss.
Your BFF who hates everything is about to be so, so happy. Prepare to feel smug in 3…2…1…
We are a participant in the Walmart.com Affiliate Program and may earn fees by linking to Walmart.com and affiliated sites.
This article was originally published on