15 Gifts For The 'Golden Girls' Superfan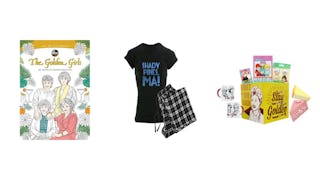 walmart.com
There's a reason why The Golden Girls was such an iconic show and lives on in our hearts. We all see a little of Blanche, Dorothy, Sophia, and Rose in ourselves, don't we? Or maybe you have an ex like Stan or you really do come from a little Norwegian town in Minnesota. Well, there is certainly no shortage of merch out there to help you celebrate your love for Shady Pines and all things golden. Here are some great choices.
For the Golden Girls lover in your life, these Funko POP! figurines are an adorable gift that can be purchased individually or as a full set (and really, who doesn't want the whole set?).
Is there any other way to spend your next girls' night than drinking wine in comfy pajamas and playing Golden Girls Clue or Monopoly?! No, there's not. (You know it was Blanche with the rope in the bedroom.)
One of the reasons we love this show so much is because we want a squad just like this—friends we can vent to, fight and make up with, and know they'll always stay up late eating cake with us when we need it. This shirt is the perfect gift for someone with her own special golden squad.
Cooped up in the house on these cold, dark winter days? No worries if you have this Golden Girls 1,000 piece puzzle! Just cut yourself a piece of cake and get to puzzling as you pay homage to your favorite funny ladies.
Or, if you're hanging out with a fellow GG superfan, this Checkers and Bingo combo game will turn your boring old Friday night into a real party. You'll feel like you're there yourself—in the real Shady Pines.
For the true Golden Girls fan, there's no greater gift than allowing them to watch any episode whenever they want. And that's just what you'll gift to them with this complete series DVD set.
This gift bundle comes with a classic "Stay Golden" mug, four shot glasses, and a 4-piece pin set. So whether you want tea or tequila, you're golden as long as you're wearing your GG pin. Dibs on Blanche!
This complete set of action figures lets you have your very own Sophia, Dorothy, Blanche, and Rose to play with. So even though you may not live in south Florida and have a lanai, you can feel like you're still hanging out with this hilarious crew.
This box of Golden Girls fun includes Mad Libs (you know there's some good "Eat dirty and die trash" quote in there!) and a "Squad Goals" magnet, along with various other treasures. For the true fan of the show, this gift is a must-have.
This stainless steel travel mug by CafePress includes all of your favorite GG quotes and ends with the most famous: "Thank you for being a friend." Plus, it will keep your coffee hot, making it a fab stocking stuffer!
This vintage-looking kitchen towel resembles the flour sacks our grandmothers (and Rose) used to cook with. And it includes the actual recipe for Vanskapkaka—one of Rose's famous Scandinavian concoctions.
Adult coloring books are proven to release stress and improve mental health. So what better way to do so than by coloring in Blanche's bright silky date outfit or the palm trees on the lanai?
We know you wouldn't actually threaten to send your own mother to Shady Pines (Ha! Yes, you totally would), but either way, you can channel your love for all things golden with this comfy and cute pj set.
This playing card set is the best stocking stuffer ever for the Golden Girls super-fan. Whether it's for Solitaire, or Go Fish, or a marathon game of Poker, who wouldn't love playing cards with these funny ladies on them? (Of course, Blanche is the real queen.)
A true fan would love this Golden Girls book that includes exclusive interviews, never-before-revealed stories, and authentic black and white photos. Find out what really happened during the making of TV's best show ever!
For the Golden Girls super-fan, the gift options are endless. Between comfy pajamas, board games, and a shot glass set, what else can you ask for as you honor your love for Dorothy, Rose, Blanche, and Sophia?
We are a participant in the Walmart.com Affiliate Program and may earn fees by linking to Walmart.com and affiliated sites.
This article was originally published on