10 Gifts For The HGTV Lover In Your Life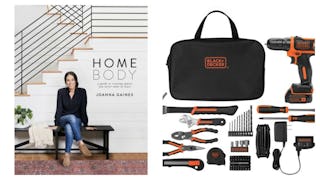 WALMART.COM
If you know someone who is obsessed with watching HGTV and counts on viewing it as their therapy, Scary Mommy can help — Walmart has plenty of things for the HGTV lover in your life.
If your friend loves HGTV, we are sure Fixer Upper has something to do with that. This cookbook combined the aesthetic everyone loves about their favorite home-improvement channel with delicious recipes.
This is the ultimate way for people to have fun with design and landscape projects. It's a video game for adults, and we all want to dream and play.
The look of shiplap without all the work can happen with this authentic looking shiplap wallpaper. Your friend will love a roll of this to test out on an accent wall, especially if you add a coupon to help them hang it.
A cozy blanket is essential for the HGTV lover because we all know they don't just watch a show or two — a marathon is going to happen on the regular. This pompom knit blanket is perfect for hours of watching.
These wine glasses will make their drinking extra easy since they will be so busy watching (and drooling) at all the home deliciousness.
Because your friend watches beautiful shows being renovated and decorated on the regular, they take pride in their home as well. We are obsessed with this set of gold vases that look great in any room with any kind of stem or flower.
They will adore you for this book — from cover to cover, it's filled with eye candy. Every HGTV fan needs this in their collection to get their inspiration fix when they can't watch.
With all that watching and taking notes about what they want to do with their home, they are going to need to be comfortable. This set is soft and warm and, of course, they will love their elastic waist.
Even if the HGTV lover in your life isn't taking down walls or hanging up cabinets, they've thought about it. They have learned a lot through watching all their favorite shows and they want to put their new learnings to work– this set has everything they need to get started.
This board is the perfect place to keep all the home improvement ideas (and honey-do lists) front and center to ensure things get done and checked off the list.
We all have an HGTV lover in our lives and they will love you for thinking of them and supporting their habit this holiday season.
We are a participant in the Walmart.com Affiliate Program and may earn fees by linking to Walmart.com and affiliated sites.
This article was originally published on