12 Vintage Toys You'll Want To Give Your Kids This Year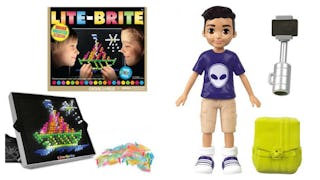 WALMART.COM
There is nothing more nostalgic than gifting your child something you used to get so much pleasure in back in your playing days. So we've put together a list of our favorite that will take you to days of yesteryear.
Cabbage Patch Kids are still here and chances are you had one as a kid — now it's time to buy this special doll for your child and relive some magic.
We love Nicholas and so will you kids. He comes complete with his own selfie stick.
If you spent hours playing with Polly Pocket (hello, who didn't) then you are going to want this snow house to go with all the Pollys you are going to slip in your child's stocking. Even if they don't play with it, you will.
You probably spent hours playing with your epic Lite Brite when you were supposed to be in bed and so will your kids.
Spirograph is one of the most satisfying ways to create artful masterpieces. It's the perfect craft to set out for the kids while you are throwing dinner together or need to grab a shower.
A Barbie dream house is an actual dream — for you and your kiddos. They will spend hours playing and imagining and you can join in, paint your toes, or read while they are engrossed in setting up each room.
Every child must have a wagon and we love this old-fashion radio flyer. When they are younger, you can push them around, but when they get a bit older they will spent hours giving each other rides.
We loved our popples when we were little and now they are better than ever because they talk.
A Rubik's cube never goes out of style. It's the perfect stocking stuffer to give all your littles to keep them busy on long car rides.
We've all loved a plush Care Bear at one time or another. They make great snugglers for your kids to hug at night.
Action figures are always fun for our kids to collect and play with. We still love these ninja turtles as much as we did when we were younger.
We can all agree mall madness is the best shopping-themed board game ever. Your kids will love this Littles Pet Shop version.
These are all a great way to add variety to your holiday gift giving. You can never go wrong with some of the classic toys that have been enjoyed by kids of all ages for decades.
We are a participant in the Walmart.com Affiliate Program and may earn fees by linking to Walmart.com and affiliated sites.
This article was originally published on