Gifts For The Kind Of Guy Who Hates Sports And Is Allergic To Tools
by Team Scary Mommy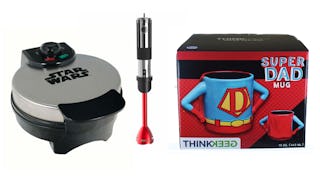 Image via Walmart
For that special guy you love…who can't even hang a picture frame.
Manliness isn't all about tools and baseball. Thankfully, there are plenty of gifts for the guy who rejects stereotypes and embraces weirdness (and, let's be honest, laziness!).
If you want to make some dudes useful in the kitchen, just slap on some Star Wars branding. The waffle maker makes Death Star-shaped waffles, and the immersion blender is a lightsaber. This might be the funnest kitchenware since this R2-D2 Beer Stein.
If he hates tools, he probably sucks at coiling his chargers and cables. This cable sleeve/wire hider may not be the sexiest gift, but it might save his clumsy ass from tripping.
Make a dad in your life feel super — and indulge his caffeine habit — with this Super Dad mug. He can even sip from both sides of the mug using the arms. Honestly, men get everything.
Tile is the perfect gift for the dude who loses everything. Wallets, remotes, keys — snap on a Tile Mate and he'll never lose them again. The Tile links up to all devices and tracks the location of your items. It even beeps when you're looking for it. Buy him a 4-pack in case he loses this, too.
The Art of Shaving Starter Kit is perfect for teenage boys just starting their facial hair journey, or for any guy looking to class up his shaving sitch. It comes with a pre-shave oil, shaving cream, a shaving brush, and after-shave balm all in soothing lavender.
Everyone needs pants to wear when it's time to sip cocoa on the couch. For the contrarian dudes in your life, there are these fleece Grinch pajama pants.
Even if he isn't a lumberjack, he can still smell like one with Bourbon Cedar soap from Olivina. Also available in Ginger Beer and Juniper Tonic.
This hamburger press is perfect for the guy who wishes he could barbecue, buuuuut he'd rather hang out and play lawn games. Can you blame him? With this bad boy, he can just press burger meat, toss it in a fire, forget it, and get a perfectly formed patty.
For the paranoid dudes in your life, this RFID genuine leather wallet protects your credit cards from thieving radio waves (they exist, apparently?). Each compartment is shielded, so your info isn't revealed to any looky-loos when you open your wallet. Plus, it looks slick AF.
We had to save the best for last. Sure, he may not love sports, but he can't possibly be allergic to toilet golf. That would make him a monster. He already spends hours in there, why not give him something to do?
We are a participant in the Amazon Services LLC Associates Program and may earn fees by linking to Amazon.com and affiliated sites.
This article was originally published on