12 Things For Someone Who's Always Cold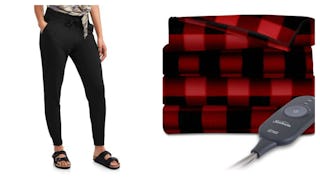 WALMART.COM
Baby, it's cold outside and we all have that friend who is freaking freezing all the time and blasts the heat whenever she gets in the car with us. And if you're looking for a gift to keep her toasty, we've got you covered.
These cozy fleece pants will keep her warm from her bum to her ankles. They are soft and can slide over a pair of leggings for those extra cold days when doubling up is necessary.
These duck boots are so cute and will keep her feet warm and dry no matter what it's doing outside. And since they are under $30, I'm thinking you need a pair, too.
A chic blanket to put at the end of her bed, or arm of her sofa so she can reach for it whenever she gets a chill, will be a gift that will keep giving until the temperature rises a bit.
A snuggie is always a good idea. This will keep her warm while she's yelling at her kids and blowing up your phone.
She will love you for giving her this blanket that heats up and will deliver perfect temperatures all winter long.
Layering is key but who wants plain and drab when you can have these fun, colorful thermal tops and bottoms from EFFINY? They even double as cute pajamas so all she'll have to do is strip of a layer before crawling into bed.
Velour is in, and this tracksuit is the definition of warmth and comfort, and she won't even have to change to run to the store to get milk.
If she doesn't own a weighted blanket, this is the time to spoil her and get her one. Not only will it keep her warm, these blankets have been known to help with anxiety.
Her feet will be oh-so-warm in these furry slip-ons that look cute enough to pass as shoes.
This massager will get rid of all her knots and double as a heating device for her back, neck, and shoulders. She's sure to take this in the pantry with her when she'd hiding from the kiddos.
She will love pulling on a pair of fun socks every day and this gift pack from TeeHee doesn't disappoint. If she didn't adore cozy socks with animal faces would you even be friends?
A few pairs of fingerless gloves that turn into mittens when her fingers get cold is the perfect treat. Make sure to get her an extra pair to keep in the car in case of a cold-hand emergency.
You will warm her heart (and body) with any of these gifts. Throw in some chocolate, and she will make you her bestie for life.
We are a participant in the Walmart.com Affiliate Program and may earn fees by linking to Walmart.com and affiliated sites.
This article was originally published on