15 Gifts For The Star Wars Lover In Your Life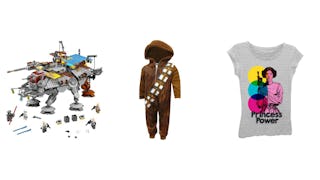 walmart.com
Star Wars is a world all in its own. Generation after generation has been sucked into the galaxy that is far, far away to root for Luke, Leia, Han, and Chewie as they battle the dark side. And now, in recent years, Rey, Poe, Finn, and BB8 have taken over the big screen as the new generation of rebel fighters.
If you're shopping for a Star Wars fan, it can be overwhelming, especially if they already have 892 light sabers (not than we'd know anything about that). So we're here to help with some sure-fire hits for Star Wars super-fans of all ages.
Star Wars LEGOs are a hit for any kid who loves the movie franchise, LEGOs, or both. This replica of Captain Rex's AT-TE is 972 pieces and will probably be the first thing your kid wants to rip open and play with on Christmas. Another fun choice is this Star Wars LEGO advent calendar.
Everyone's favorite tiny creature from The Last Jedi is the porg. This stuffed porg, however, doesn't just snuggle—it also moves forward, turns, waves, flaps its arms, chirps and tweets!
If your family is a generational Star Wars family, your kids may appreciate the value of vintage memorabilia, like this Imperial Combat Assault Tank.
The true Star Wars fan decorates with as much memorabilia as possible, so a Millennium Falcon or Death Star rug is the perfect gift for them.
Obviously Star Wars fans need to get in on the unboxing obsession! These "blind bags" keep your kid in suspense since they don't know what toy they're getting. This one's a fun must-have for under the Christmas tree.
Leia was the OG Star Wars girl, and we love her for it. Help your super-fan channel their inner princess with this vintage-inspired "princess power" t-shirt.
Okay, so kids don't normally get too excited about pajamas, but your little Chewie fan will absolutely freak over this one-piece set. We promise.
Ask any kid, and they'll tell you that no night-light can compare to having Luke's light saber on the wall to illuminate their room. You (or Santa) will score major points with this gift.
One of the best parts of the Stars Wars franchise is all the brave, take-no-crap women who fight right alongside their male counterparts. This Forces of Destiny reversible bed set shows off Rey, Leia, and Jyn Erso and comes with a bonus BB8 pillow.
If you're truly stumped on what to buy for the Star Wars lover in your life, this mystery box is a terrific idea and plays into the modern kid's obsession with unboxing. They'll open it up and see an assortment of collectibles and memorabilia, but no one knows exactly what.
Help a little super-fan take better care of their teeth with this awesome Kylo-Ren light saber toothbrush! (This one's a gift for the child AND their parents.)
Will Luke defeat Vader? How about Rey vs. Kylo? Keep the iconic battle between the light and dark side going with this Star Wars themed bean bag toss.
This fully interactive remote control BB8 droid could be the "big gift" for a Star Wars super-fan on Christmas morning. You might want to save this one for last!
The little Star Wars lover in your life will love to dress up as the brave and mysterious Rey with this costume from Episode VIII: The Last Jedi.
How about cooking up some Death Star waffles in this super fun waffle maker or popping up a snack in your Death Star popcorn maker? With these additions to your kitchen or entertainment room, your house will be officially Star Wars approved.
There really is an endless supply of Star Wars merch out there for any adult or kid who's obsessed with the Skywalkers and their foe. In the end, though, if you buy a new light saber for a kid who already has like 20 of them, don't worry—they'll love it. (There's a reason they have so many.)
We are a participant in the Walmart.com Affiliate Program and may earn fees by linking to Walmart.com and affiliated sites.
This article was originally published on