Gillette's Ad On Toxic Masculinity Is So Necessary
by Christina Marfice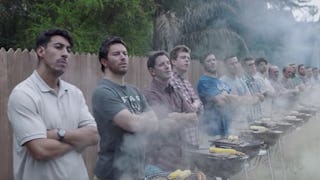 Image via Gillette / YouTube
Gillette is challenging men to shave their toxic masculinity in their must-see new ad
The #MeToo movement has opened a lot of conversations about the way men treat women. We know it's up to men to change their behavior, but women have been saying that for generations. We need men to hold other men accountable. Enter Gillette's powerful new ad that asks them to do exactly that.
The men's toiletry brand has had this tagline for the last 30 years: "The Best A Man Can Get." Now, they just released an ad with a new take on that: "The Best A Man Can Get" is stopping other men, including the next generation, from harassing and mistreating women, but also from bullying each other and engaging in acts of toxic masculinity.
Here, just watch it, and try not to get chills.
The ad, targeted at men and called "We Believe," begins with audio of news about the #MeToo movement. A narrator then takes on the common phrase, "boys will be boys," asking, "It this the best a man can get? Is it? We can't hide from it. It has gone on far too long. We can't laugh it off, making the same old excuses."
The commercial depicts men stepping in to stop their brethren from catcalling and telling women to smile. It shows a father breaking up a fight between two little boys at a BBQ instead of letting them "be boys" and another dad fending off bullies from a little boy while his small son watches intently. It shows a mother cradling her bullied son as vile text messages from his tormentors are shown.
"Something finally changed, and there will be no going back," the ad says. Damn straight something finally changed. We're speaking up. We're demanding better from men. We're demanding that men stop the cycle of harassment, of bullying, of toxic masculinity.
"Because the boys of today will be the men of tomorrow," Gillette's ad concludes, and cut to me crying all over my keyboard.
"This is an important conversation happening, and as a company that encourages men to be their best, we feel compelled to both address it and take action of our own," Gillette brand director Pankaj Bhalla told the Wall Street Journal. "We are taking a realistic look at what's happening today, and aiming to inspire change by acknowledging that the old saying 'boys will be boys' is not an excuse. We want to hold ourselves to a higher standard, and hope all the men we serve will come along on that journey to find our 'best' together."
It's a strong stance for a brand to take, but one that's so important. Thank you, Gillette, for directing the conversation toward men and how they can — and must — do better.
This article was originally published on