This Gilmore Girls Lego Set Needs To Happen Immediately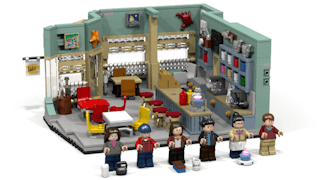 Image via Rainer Zufall/Lego Ideas
Hold on to your bottomless mug of Luke's Diner coffee, a "Gilmore Girls" Lego set might be a thing we can own, and it's basically perfection. The catch? We need to throw our support behind the idea to make it happen.
Because why should our kids have all the fun?
The possibility of a tiny Luke's Diner complete with minifigures of the show's main characters is brought to us by hero Rainer Zufall, who submitted his brilliant plan to Lego Ideas, which allows anyone to suggest new sets for production. Provided, of course, that there's enough interest for Lego to review it.
And how could there not be enough interest in this amazingness for it to get past the 10,000 supporters needed for Lego to consider making it?
Behold.
Anyone else squealing out loud, or just us? This. Is. Perfect. From the spot-on Luke's Diner sign to the infamous "No Cell Phones" warning behind the counter, Zufall captures so many details fans of the show will appreciate.
Check out the cast of tiny Stars Hollow characters just begging for us to stage entire episodes while sitting on the couch sipping one coffee after another.
Lorelai! Luke! Rory! All in teeny form and ready for a little mom fun. Will our kids understand or give a single shit? Of course not. Do we care? Not one bit. Sometimes, it's all about us. This is definitely one of those times.
A closer look at the diner, meticulously built by Zufall, who came up with the idea for the sweetest reason.
"The idea of building Luke's Diner came to me, because my wife is a really big Gilmore Girls fan and she asked me to build Luke's Diner for her. So, since I am a big Lego fan I was glad to do this for her and – here it is," writes Zufall on his Lego Ideas page.
So far, Zufall's idea has over 4,000 supporters toward the required 10,000 for Lego to review, so head over to his page and follow it. It costs nothing, you just have to set up a Lego ID account.
Let's help make this happen, because my son's Darth Vader minifigure makes a totally inadequate (and extremely creepy) Jess.
This article was originally published on