13-Year-Old Killed At Gilroy Festival Stayed Behind To Help A Relative Who Uses A Cane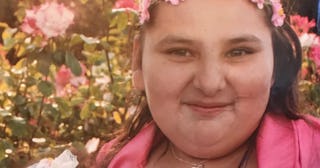 Gofundme
The young girl was helping a relative walk when tragedy struck
Earlier this week, we learned that a six-year-old boy was among those killed at the Gilroy festival shooting in Northern California. The second young victim was a thirteen-year-old girl named Keyla Salazar. According to her family, when the gunman opened fire on the festival, Salazar didn't run but instead stayed behind to walk with a relative who was using a cane.
Salazar's aunt, Katiuska Pimentel Vargas, told the Associated Press (via Fox News) that she believes Salazar was shot with the bullet that might have hit the family member she stayed behind to walk with.
"Unfortunately, my niece Keyla was not able to make it and died at the scene. I have no words to describe this pain I'm feeling, Keyla you are an angel and we will miss you with all of our hearts. You were too young to be taken from us. We are all devastated and broken and need time to heal and process," Pimentel Vargas wrote in a heartbreaking note on Facebook.
Pimentel Vargas also told Buzzfeed News that the family wants their daughter to be remembered.
"We want Keyla to be remembered as someone that is beautiful," the aunt said. "She really cared a lot about other people. She loved animals. She had big dreams and aspirations, and her life was cut short."
Salazar, six-year-old Stephen Romero, and 25-year-old Trevor Irby were all killed when 19-year-old gunman Santino William Legan opened fire with an assault rifle that he purchased in Nevada earlier this month. Fifteen other people were injured and Legan was shot dead by police on the scene. It is believed that the shooter cut through the fence to enter the festival despite heavy security checks at the official festival entrance.
Pimentel Vargas added that Salazar's family is "unable to comprehend the level of violence" that occurred on Sunday and hope that serious gun reform changes are coming.
"We need, like, some type of, like, change, so we ensure that this doesn't happen to another kid, that there's not another Keyla, that there's not another family that has to go through this," Pimentel Vargas added to Buzzfeed News. "I don't wish this on anybody."
As for the other victims, the San Francisco Chronicle reported that 25-year-old Irby had recently moved to the area with his girlfriend and was working as a medical assistant at a nursing home and young Romero's father simply told NBC Bay Area: "My son had his whole life to live and he was only 6. That's all I can say."
A local car dealership in Gilroy started a GoFundMe for Salazar and all money raised will go directly to her parents. There are also GoFundMe pages for the other victims' families — head here to donate to Salazar, Romero, and Irby's families.
This article was originally published on