Gimme All The Donuts: A Donut Lover's Wish List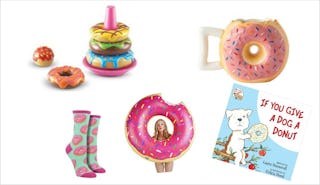 Amazon
Donuts are so hot right now, and this is definitely a trend I can get behind. If you want to step up your game, and take your donut pride to the next level, I've got you covered.
This shirt, which is basically the only thing you should wear while doing cardio.
These socks. I don't think I can keep living life without donut socks.
The cutest freaking baby toy of all time. That donut hole topper is killing me with cuteness.
This sprinkle donut mug.
Or this mug, if you are straight outta fucks to give.
This adorable book. (My Kids are obsessed.)
This pillow that I can't believe is actually a pillow because it looks real enough to eat.
And if you are pining away for some sunshine and ready to stock up for summertime, or just need an Instagram prop, you better snag this now:
And…now I need donuts in my face immediately! I'm off to Pip's Original Doughnuts because I'm lucky enough to live in the land of the most magical donuts on the planet. Gimme, gimme.
Editors may receive samples and/or a share from purchases made via links on this page.
This article was originally published on