Gina Carano Fired From 'The Mandalorian' After Racist, Offensive Social Media Posts
by Christina Marfice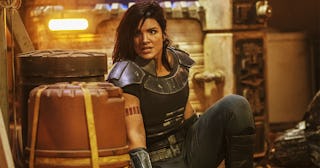 Disney +
Gina Carano will no longer be a part of the Star Wars universe after her controversial social media posts
Those who have watched The Mandalorian on Disney Plus know Gina Carano. She played fan favorite Cara Dune, who was praised by fans for the calm strength she brought to the role. But late last year, fans started to see her tweeting increasingly controversial and problematic things, and now, after a recent social media post comparing being a Republican to being Jewish during the Holocaust, she's been fired from the show.
Carano's problematic Instagram Story has since expired, but there are still plenty of screenshots circulating. #FireGinaCarano was trending on Twitter earlier this week, soon after she made this post.
In a statement, a Lucasfilm spokesperson confirmed she had been fired, and the post about the Holocaust was the reason.
"Gina Carano is not currently employed by Lucasfilm and there are no plans for her to be in the future," the statement said. "Nevertheless, her social media posts denigrating people based on their cultural and religious identities are abhorrent and unacceptable."
A spokesperson for United Talent, her agency, also confirmed to The Hollywood Reporter that Carano has been dropped by her representation there.
This isn't the first time Carano has been in the middle of a controversy for the things she's posted on social media. In November, she tweeted out a meme mocking mask-wearing at the height of the pandemic's fall surge.
Carano also tweeted about voter fraud in the 2020 presidential election, something that has been widely and thoroughly disproven a number of times.
A source even told The Hollywood Reporter, "They have been looking for a reason to fire her for two months, and today was the final straw," referring to the tweet about the Holocaust.
There were rumors late last year that Disney Plus planned to give Carano her own spin-off show in the Star Wars universe, and that it was planned to be unveiled during Disney's December investors call. But that plan was allegedly scrapped after her controversial tweets in November about the pandemic and the election. We know that Disney Plus has a number of Mandalorian spin-offs in the works that could easily have starred or featured Carano, including Rangers of the New Republic, but today's news seems to confirm that the actor won't be a part of any of them.
Carano hasn't publicly spoken about her social media posts, being let go from Lucasfilms and her talent agency, or made any kind of public statement since she lost her job.