'Giraffe Mom' Meets April The Giraffe And Her Calf And The Photos Are Adorable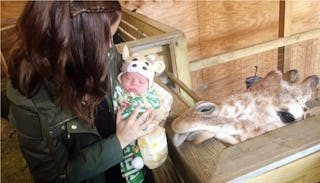 Image via Facebook.
Erin Dietrich, aka Giraffe Mom, said April loved her baby boy
First there was April the giraffe, then there was Giraffe Mom, and now the internet has blessed us once again by bringing these badass mamas together. Giraffe Mom, aka Erin Dietrich, flew to Harpursville, New York, to meet the real life animal who made them both internet famous.
"The experience was awesome and surreal," Dietrich told Country Living. "We are so thankful we got to go up there and meet them!" April gave birth to her 129-pound baby boy on Saturday. A few days later the mom and calf got to meet Dietrich and her bundle of joy. We're pretty jealous of all the fun they had this week.
The world has watched April wait for her calf via live stream for months. The only thing the internet loves more than animals is baby animals. Dietrich threw on a giraffe mask and made a parody video that showed her hanging out in her bedroom waiting for her baby to be born. More than 31 million views and 450,000 shares later, the mom of four from Myrtle Beach, South Carolina is a viral sensation.
"We're buddies; we're companions," Erin told Inside Edition, which is the news organization that arranged the meetings of the mamas for the playdate. "She just doesn't know it."
Dietrich gave birth to her boy on March 8 and named him Porter Lane. "He's here!! He is perfect, healthy and just beautiful," she wrote on Facebook at the time. April's son might soon share the name with the newborn since there's a petition to give the calf the same moniker. Awww. Isn't that adorable? We'll have to wait a bit longer before we find out what the world thinks the new giraffe should be named, though. Animal Adventure Park, where April and her calf live, is holding a contest letting folks cast their vote for the baby giraffe's name at $1 a vote.
This article was originally published on