Little Girl With Brain Tumor Would Like To Hear From Your Dog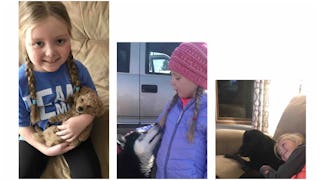 Image via GoFundMe
A girl with brain cancer has received more than 100,000 letters of encouragement from dogs around the world
A family friend just wanted to do something special for 7-year-old Emma Mertens, who is being treated for an inoperable brain tumor. They put out a request for letters and pictures featuring people's dogs – and a whole bunch of furry cuties stepped up to the plate. In fact, more than 100,000 people have sent Emma pictures of their pups, hoping to bring her some love and cheer.
When Emma returned home from the hospital after being diagnosed with a rare and inoperable brain tumor called DIPG, her family wanted to do something extra special for her.
"She's just always loved puppies and a friend of our family ended up wanting to reach out and spread some love for Emma knowing that we were home and had this diagnosis," Tammy Mertens, Emma's mom, told TMJ4. That family friend reached out to people asking for pictures and letters from their dogs and things completely snowballed from there. Mail started flooding in.
"We're receiving about 3,000 emails an hour," Geoff Mertens, Emma's dad, said. "It's beyond overwhelming." One Facebook post from the Wisconsin Humane Society that put out a call for dog pictures pulled in more than 160,000 responses.
In an interview with Fox 6, Geoff estimated that they've received pictures and letters from every single state and fifty countries.
"People from the Netherlands, England, Australia, Venezuela, Italy, Germany and almost every U.S. state have sent Emma an email with stories and pictures of their dogs," Emma's You Caring journal read. "The response is amazing… being kind is simple. It's all Emma has really ever wanted is for everyone to be kind."
Lots and lots of pups and their owners sent personalized messages of love and encouragement to the 7-year-old. "Emma this is Stevie she is 10 months old and her favorite thing is to go outside and pick up bigger sticks than she is," Sean Ziegler wrote in a Facebook comment. "We wish you the best and Stevie wants you to feel better sweetheart."
Emma also received some love from a very big doggo named Walt. "I'm a 175 lb Mastiff/German Shepherd mix. That's me on my friend Zoey's lap. I'm dreaming all good thoughts for you," he wrote. And there were many, many more where that came from.
Strangers across the world have also been donating to Emma's GoFundMe account, which raised $118,392 to support medical bills and possible clinical trial logistics. After they donated, people shared even more pictures and sweet notes from their dogs.
Geoff and Tammy told Fox 6 that all of these messages are really helpful during a really difficult time. "[Emma] is very brave because even doing radiation entails a lot and it's scary," Tammy said. Geoff added: "I think the letters give us an opportunity to forget about it."