8-Year-Old Girl Expelled From Christian School For Having A 'Girl Crush'
by Madison Vanderberg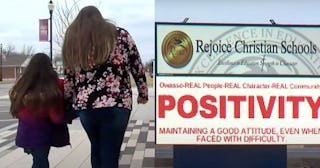 9News/YouTube
An 8-year-old girl was kicked out of her private Christian school for telling a female classmate she has a crush on her
An 8-year-old girl was kicked out of a private Christian elementary school in Owasso, Oklahoma, after she told another female student that she had a crush on her. Despite the fact that young boys historically love to taunt their female counterparts when they have school yard crushes on them — this young girl, and her siblings and family, were asked to leave the school because this second grade girl made it know to her pal that she had a crush on her.
Delanie Shelton told CNN that her 8-year-old daughter Chloe Shelton, a second grader at Rejoice Christian School was pulled into the Vice Principal's office for **gasp** having a girl crush.
"Before I was even called, the vice principal told Chloe that the Bible says that women can only have children with a man," Delanie told CNN. "[The vice principal] asked me how I feel about girls liking girls and I told her that I see no issue with it."
"I said 'If we're being honest, I think it's okay for girls to like girls' and she looked shocked and appalled," Shelton also told a local Fox affiliate and said she is raising her family to not judge and love whomever they want.
Chloe was expelled for several days until the school told Delanie that they are "ending their partnership" with Shelton's family, which means Chloe's younger brother was expelled too.
It's not shocking that a Christian School is homophobic, but to expell a student and her brother because the girl had a crush!!?
"I was so blindsided. I was angry, hurt, betrayed, sad…so many different emotions. I just couldn't believe it," Chloe's mom said. "I asked [the Principal] to have a sit down meeting to discuss it and process it better and he refused, saying that 'nothing more needed to be discussed.'"
The school simply stated that the family's "beliefs" didn't align with the school's and stated that if the Shelton family had read the school handbook they would see that the school forbids "any form of sexual immorality" including "professing to be homosexual/bisexual."
Some asshats in the YouTube comments of a local news video have said that the parents should have read the school's handbook before sending their kids to school there. Sure, but also…how about private Christian schools stop being so damn homophobic?
Now, poor Chloe is dealing with the fallout from the expulsion and has reportedly asked her mom if God still loves her. The only bright side is that young Chloe has reportedly received over 150 messages from people all over the U.S., saying how proud they are of her, and how much they — and God — love her.
"She's feeling so loved and supported now because of so many amazing people that have reached out to us," Delanie said. "She's excited for a fresh start at a new school."
Happy for Chloe to get the hell out of that school and into a new one that supports her.