An 11-Year Old Girl Faces Deportation Alone Without Her Family
by Cassandra Stone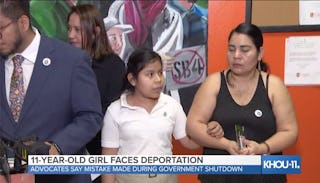 Image via Facebook/KHOU 11 News
A judge signed off on the order to deport the young girl back to El Salvador
An 11-year-old girl from El Salvador has been issued a removal order for allegedly missing a court appearance last month. This means the girl, Laura Maradiaga, would face deportation back to the country she and her mother and sister escaped last fall — but she'd face it alone, without them.
Last year, Laura's mom, Dora Alvarado, fled El Salvador due to gang violence with Laura and her 15-year-old daughter, Adamaris Alvarado. Members of her family had already been killed after one member of the family witnessed a murder and testified in court. Adamaris was accosted by a gang member who threatened to murder her and her family if she notified them about her harassment.
"That's when mom told us we were going to the United States," Laura tells the Houston Chronicle. The three of them were apprehended at the U.S.-Mexico border on October 5, 2018, but were released to pursue a claim of asylum. According to The Washington Post, the family has checked in with Immigration and Customs Enforcement (ICE) every two weeks since November without fail.
Laura, her mother, and her sister all appeared in immigration court earlier this week, where Laura was given an order to be deported back to El Salvador — alone, without her mom and sister. It is unconscionable to separate an 11-year-old child from their mother and send her back, alone, to the violent and life-threatening environment they were desperate to escape in the first place.
Laura's attorney, Silvia Mintz, blames a communication error that led to the missed court appearance, possibly due to a court translator. Mintz says she's asked the court to reopen the case. The family attorney says due to the government shutdown, the family's originally scheduled court appearance for February 2 was rescheduled to March 12. When the family showed up on the rescheduled date, an interpreter told them that Laura's name wasn't on the court docket.
In March, the family received a letter that they were unable to read because they don't understand English. This week, the family returned to immigration court for their next scheduled hearing and another interpreter told them that the letter they had received last month was actually a deportation letter — just for Laura.
Horrifyingly, the clerical error nor the fact that a deportation order exists for a child by herself was enough to stop Judge Clarease Rankin Yates of the Houston Immigration Court from marking Laura as "not present" at the March hearing. "No good cause was given for Respondent's failure to appear at the hearing," the order reads. "Therefore, the Respondent has abandoned any and all forms of relief from removal."
During a press conference on Thursday (in the above video), Laura can be seen fighting off tears as she says, "I feel bad because I don't want to be separated from my family. I don't want to be taken away from my mom."
The family, their legal counsel, and Immigrant Families and Students in the Struggle, an immigration advocacy group supporting the family — all hope this matter can be straightened out accordingly, and that Laura can stay in the U.S. with her mom and sister while they fight their asylum case. This little girl should not have slipped through the cracks and a family shouldn't be left utterly devastated as a result.
"I hope the judge can see it was a clear mistake on behalf of the court," Mintz said. "I don't think it was ill-intentioned, but it shows how overworked these courts are."