There Is So Much To Be Learned From This Little Girl Who Gave A Homeless Man Her Meal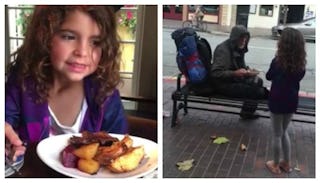 Ella Scott gives a homeless man her meal. Photos via Facebook.
Girl gives a homeless man her meal and her dad catches it on video
A little girl gave a homeless man her meal and with her one kind gesture reminds us all to be better humans. Eddie Scott, Ella's dad, caught the whole exchange on video and it's going viral.
The dad and daughter were eating inside a restaurant when she quietly asked if she could give the man outside her food. Watching the video, you can see how worried she is about the homeless man, who happened to be sitting on a bench right outside the restaurant. So she takes her plate of steak and potatoes and silverware to the man and hands it over. The man looks surprised but immediately starts eating.
"My girl right here, I love her to bits," you can hear dad say in the video while his daughter exchanges a few words with the unidentified man. "Good job, Ella. Ella, you're amazing. I think you just made his day. I think you just made his week," Scott added. When she returns to the table, she looks happy and proud for a moment before turning her attention back to the man.
"My baby girl Ella learned an important lesson today – Help those less fortunate than you," her dad captioned the video that is now going viral. It's been shared more than 12,000 times and viewed by more than 16 million people. Comments have come in praising Scott for raising his daughter to be so conscious and concerned about those around her. "Imagine, if we all taught our kids to be kind to others, what a wonderful world this would be," one mom shared. "I am so humbled by so many of you that have liked and shared this video of Ella giving her dinner to this homeless man," Scott wrote on Facebook in a follow-up comment. "Thank you so much for your support. It means the world to me!!"
Raising our kids first to notice those around them who've got less and teaching them to care and help is an incredibly worthy endeavor. And since the last recession, it's become even more important that we do so. The number of homeless children who go to public schools has doubled since before the recession started, the Washington Post reported. Federal data shows that we reached a national record with a total of 1.36 million homeless students in the 2013-2014 school year. Our kids are much more likely to have a homeless friend nowadays.
The Scott family's video is going viral, but for them, the attention is not the reason Ella shared her meal with the homeless man. "Truth be told I have taught Ella to do this since she was three years old when we lived in Brooklyn/Manhattan," dad wrote on Facebook. "I have had so many people help me in my life it's so important that I give that lesson to my daughter."
How wonderful that Ella's lesson turned out to be a good reminder for the rest of us.