Girl And Her Grandpa Attend College Together, Inspiring Everyone
by Mike Julianelle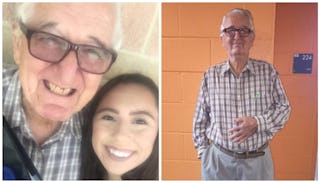 Image via Twitter
A grandfather and his granddaughter are attending college at the same time
An 18-year-old girl starting her freshman year at Palo Alto College is reason enough for a family to be proud, but when she's in school at the same time as her 82-year-old grandfather, well, that's just awesome.
According to Buzzfeed, Melanie Salazar calls her grandfather, Rene Neira, her best friend, and couldn't be more excited to be his classmate. Or more inspired.
"It only motivates me more to not give up," she said. "It makes me realize the importance of getting an education like my grandpa…so I can accomplish something great like him."
She's not alone. People all over the internet are inspired by this story.
For his part, Neira is not trying to inspire anybody, neither his granddaughter nor the strangers sharing his story on social media. Dude's just living his life, trying to finish something he set out to do half a century ago.
"I'm not trying to inspire Melanie, or anybody," he said. "I'm glad that's what it's doing, but I'm just doing what I've always wanted to do."
Neira briefly attended college in the 50s, back when he was the age of the typical college student, but getting married and having kids cut that short. Now, some 60 years later, he's back to finish the job. Along with one of the fruits of the family he quit school to start. And she couldn't be happier about it.
"Just last June, he watched me cross my high school stage and now I'm going to get to watch him cross the college stage," she said. She only wishes he would be there longer! "It's been pretty awesome," she said. "I know it's only going to be for one semester, but I'm going to cherish that while I can."
And the 82-year-old grandfather ain't done either. Once he finishes his associate's degree, he has plans to pursue his bachelor's! We could all hope to have half his energy and drive when we reach his age.
Between the story of the 11-year-old science wiz taking classes at the University of Toledo and this one, I'm starting to feel pretty silly about still being in my pajamas at noon.