12-Year-Old Girl Invents A Pouch To Make IVs Less Scary For Kids In The Hospital
by Julie Scagell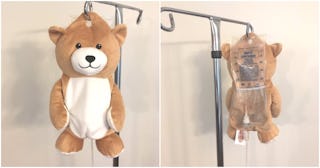 Medi Teddy
The bear goes around the IV bags to conceal their contents
Leave it to a 12-year-old to find the most perfect way to keep kids comfortable when they're in the hospital after spending more time in one than any little girl should.
Connecticut-born Ella Casano was diagnosed with an autoimmune disease called Idiopathic Thrombocytopenia Purpura (ITP) when she was just seven years old, causing her immune system mistakenly attacks and destroys platelets, which are cell fragments that help blood clot. As a result, she's had her fair share of IV's, having to undergo infusions every six to eight weeks and it was a bit scary at her age.
"When I had my first infusion, I was surprised and a little bit intimidated by the look of the amount of tubing and medical equipment on my IV pole," Casano said on her website. So she set out to fix the problem so when other kids had to spend time in her position they wouldn't feel scared — and Medi Teddy was born.
"She cut up a stuffed animal and used a hot glue gun and made her very first Medi Teddy," Casano's mom told CNN, eventually patenting and manufacturing the product after many discussions with nurses about how to make the product better. The hope was to get it in as many hospitals as possible to make kids less scared when undergoing procedures. The company is now registered as a nonprofit.
According to her website, the back of the Medi Teddy is mesh, "allowing for a doctor or nurse to see through and check on the fluid or medication a child is receiving. From the front, the child sees a friendly face and not the bag of medication, blood product or IV fluid being infused."
"The response has been wonderful — her nurses have tried the prototypes and given suggestions," Casano said. "And we think we are ready to produce a really awesome product that can help hundreds of kids."
For Casano, her disease requires her to spend a day every eight weeks or so at an outpatient clinic getting an infusion of IVIG, a medicine to increase the number of platelets in her body. "After the IVIG, I have to take steroids for a week to help minimize the side effects of the IVIG, although it still makes me feel pretty crummy," she said. "I often miss school due to post-infusion migraines, and doctor appointments."
With the help of her family, Casano recently launched a GoFundMe to raise $5,000 to be able to order their first 500 units, the minimum number required from her manufacturer, New England Toy Company. Casano's dreams have definitely come true already — having blown out their original goal by almost three times.
"As I saw more and more children experiencing the same feelings, I became more interested in creating a friendlier experience for young IV patients, so I created Medi Teddy," Casano said. "I hope that Medi Teddy helps you just as much as it helps me!"
Kids are just amazing.
If you are interested in donating, please visit Casano's site for more information.
This article was originally published on