Steph Curry Responds After 9-Year-Old Asks Why His Shoes Aren't Available For Girls
by Valerie Williams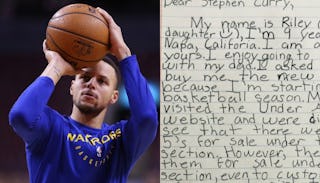 Image via Vaughn Ridley/Getty Images
A 9-year-old girl called out Steph Curry for not offering his sneaker line in girl's sizes — his response is perfection
Sometimes, all that's needed to right a wrong is a well-worded letter. At least that's all it took when nine-year-old Riley Morrison decided she needed an answer from NBA star Steph Curry on why his youth sneaker line only comes in boy's sizes. The best part? He promptly got back to her with the exact reply she was looking for.
RELATED: The Best Kids Basketball Shoes, According To Pros — And Why It Matters, Anyway
"My name is Riley (just like your daughter), I'm 9 years old from Napa, California. I am a big fan of yours," she writes.
Riley explains that she and her dad, Chris, love going to Warriors games together and that she wanted a pair of Curry 5's to kick off her upcoming basketball season.
"My dad and I visited the Under Armour website and were disappointed to see that there were no Curry 5's for sale under the girls section," she wrote. Riley points out that they're for sale under the "boys" section and can even be customized. "I know you support girl athletes because you have two daughters and you host an all girls basketball camp. I hope you can work with Under Armour to change this because girls want to rock the Curry 5's too."
Morrison's tweet of Riley's letter made the rounds and eventually, found its way to Curry himself, who had the best response possible.
"I appreciate your concern and have spent the last 2 days talking to Under Armour about how we can fix the issue," he wrote. "Unfortunately, we have labeled smaller sizes as 'boys' on the website. We are correcting this now!"
He then basically makes her entire year with the sweetest offer. "I want to make sure you can wear my kicks proudly — so I am going to send you a pair of Curry 5's now AND you'll be one of the first kids to get the Curry 6. Lastly, we have something in the works for International Women's Day on March 8th, and I want you to celebrate with me!"
Curry tells the girl to plan to be in Oakland for a special International Women's Day event next spring, and we're squealing for her.
Oh, and he wasn't bluffing — the Under Armour website has already made the update Riley requested.
https://twitter.com/jetpack/status/1068187119758192640
Her dad took to Twitter to thank Curry.
Pretty much the whole internet was thrilled to see this play out.
Riley told Teen Vogue she just wanted to level the playing field (and court). "I wanted to write the letter because it seems unfair that the shoes are only in the boys' section and not in the girls' section," she says. "I wanted to help make things equal for all girls, because girls play basketball, too."
With her letter, she took a big step toward doing exactly that.
This article was originally published on