10 Girl Power Songs From The '80s That Inspire Us To Kick Ass
by Wendy Wisner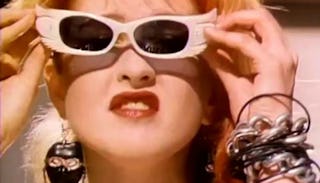 You Tube / Portrait Records
One of my favorite genres of music to listen to is '80s music — partly for the nostalgia, but also because there are so many songs with just the right blend of melodrama, heart, and badassery to motivate me, whether I'm muddling through daily chores or out for a run. Certain songs are more empowering than others, and they're almost all by women. This is no coincidence. These were the artists I listened to most when I was a kid. They inspired me then and still inspire me today.
With powerhouse vocals from powerhouse women like Tina Turner, Madonna, and Diana Ross, these iconic songs tell the complex stories of women. Of love and pain, struggle, and independence. Madonna's "Papa Don't Preach" was a runaway commercial success. And it also ignited a national conversation on teen pregnancy in a way it never had to before. To this day, "Papa Don't Preach"
And while Donna Summer's "She Works Hard For The Money" feels like a great anthem to start a weekend, it's actually based on a real encounter Summer had with an overworked bathroom attendant named Onetta Johnson. The song touches on working class culture and what that reality looks like for women. But, yes. It's also a fantastic weekend bop!
So, with all this mind, I put together a kickass girl power playlist featuring 80s female singers that also make for a great night of karaoke.
1. Diana Ross, 'I'm Coming Out'
This song came out in 1980, and you can still hear the disco influence in it. Besides being a song about showing up and being your authentic self, it is thought to be about Ross's break from Motown records (and Berry Gordy, specifically, with whom she had an on-and-off romance for years). It's about Ross changing her image and embracing her new independence, something we can all relate to. It later became an anthem for gay pride, which is also super cool.
2. Pat Benatar, 'Love Is a Battlefield'
The song's sound and lyrics ("We are strong / No one can tell us we're wrong") are kick-ass enough. But the video really takes the song to new heights. First, there's Benatar's seething stares, heavy eyeliner, and punk-rock hair. But my favorite part is when that woman in the bar is being harassed, and Benatar and her band of women come to her rescue—dancing, raging, and scaring the crap out of the harasser.
3. Joan Jett, 'Bad Reputation'
Really, there's no one as tough as Joan Jett. I'd be hard-pressed to name anyone in rock today who commands respect while simultaneously scaring the living daylights out of you, and looking hot as anything to boot. "Bad Reputation" is the ultimate "I don't care one bit what you think of me" song. It's all about being yourself, doing your thing, and never submitting to the status quo.
4. Donna Summer, 'She Works Hard for the Money'
I think of Donna Summer as mostly a '70s disco diva, but she totally knocked it out of the park with "She Works Hard for the Money" in the '80s. I love that the waitress in the video looks real: tired, strung-out, worried—nothing glamorous, total authenticity. And you better treat her right.
5. Irene Cara, 'Flashdance…What a Feeling'
When this song comes up on my playlist, no matter what I'm doing, I do it faster. There is nothing like it. And of course, I can't help but picture Jennifer Beals jumping around with her wet hair and off-the-shoulder sweatshirt (of course, all the actual dancing was done by her double). I get inspired without having to do much at all besides pressing play.
6. Tina Turner, 'We Don't Need Another Hero'
This song was written for the film Mad Max Beyond Thunderdome starring Mel Gibson, but it's everything Tina Turner. She sings her soul out in a sort of wake-up call for society and the world. "We don't need another hero"; instead, we need "love and compassion." We need real change. We can't wait. Definitely badass, and eternally relevant.
7. Cyndi Lauper, 'Girls Just Want to Have Fun'
This one is definitely more lighthearted than the others, but humor is as necessary as anything else in life. This song is as much about "working hard for the money" as Donna Summer's song is, but it's also about making time for yourself at the end of your long days. It's about self-care and the importance of friendship. I can get behind that. And Cyndi Lauper? Still the one of the coolest, quirkiest artists out there.
8. Laura Branigan, 'Gloria'
"Gloria" gets stuck my head for days every time I listen to it, and although I can't really sing, I have no choice but to do so when this song comes on. The lyrics are sung to "Gloria," who seems to be a woman who is vulnerable in some way (not sure what the "voices in your head" is signaling here) and stuck in some pretty crappy love affairs. The song is a call for her to stand up for herself and set some very necessary boundaries. Every time Laura Branigan belts out, "You don't have to answer," I'm like, "Hell yeah. You totally don't."
9. Heart, 'Never'
Heart is the ultimate girl band. I mean, just look at their hair and makeup. They have tons of amazing hits, but "Never" is the one that gets you in the gut. It makes you want to take charge and get stuff done ("Anything you want, we can make it happen / Stand up and turn around / Never let them shoot us down"). I think I should just print out the lyrics and read them every damn day.
10. Madonna, 'Papa Don't Preach'
I was the biggest Madonna fan in the world, and I can't listen to this song or watch the video without getting all choked up. Her baby, her dad, her boyfriend—all the mixed-up feelings…ah! But the song is really about breaking free. It's about a woman making choices (whether they are the right ones or not), standing up for herself, and individuating from her parents. The video showcases what might be Madonna's best acting work, and definitely one of her best looks—love the hair, jeans, leather-coat ensemble.
The word "feminist" was not something we used in the '80s to brand these women rockers, but as far as I'm concerned, they totally were feminists. They were women unafraid to speak (sing, actually!) their truths. They didn't need to hide their power. And they inspired a generation of girls to grow up and do the same.
11. Joan Jett, "I Love Rock 'n' Roll"
Need we say more?
Related: Jennifer Hudson Is Aretha Franklin In First Teaser For 'Respect' Biopic(Opens in a new browser tab)
This article was originally published on