Little Girl's Random Act Of Kindness Inspires Adults Everywhere
by Valerie Williams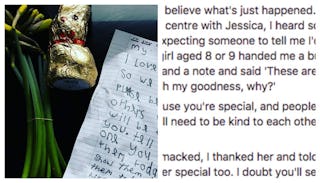 Image via Facebook
Faith in humanity: restored
A young girl and her grandfather made a woman's day by giving her a few small gifts and most importantly, a very sweet note. The random act of kindness is winning hearts all over the internet and inspiring others to do the same.
The story comes to us from the Facebook page Love What Matters and details Louise Sharp's encounter with the child and her grandfather.
Sharp explains that she was out and about when she heard someone shout, "Excuse me." "I turned around expecting someone to tell me I'd dropped something. But instead a young girl aged 8 or 9 handed me a bunch of daffodils, a chocolate bunny and a note and said 'These are for you.' Completely thrown I asked 'Oh my goodness, why?'"
The girl tells her something that us adults should keep in mind when dealing with our fellow humans. "She replied 'Because you're special, and people need to be told they're special. And we all need to be kind to each other. So these are off me and my Granddad.'"
Be still our hearts.
Sharp read the note later and was so touched by the kind act. "Completely gobsmacked, I thanked her and told her she's extremely kind and that makes her special too. I doubt you'll see this, but I've just read the note properly and found your name and thank you so much Cassidy and Grandad."
My daughter's Girl Scout troop recently completed a "random acts of kindness" unit where they did things like handing someone at a Redbox machine a package of microwave popcorn and bag of candy to enjoy with their movie or hanging a plant on the doorknob of an elderly neighbor. The joy on the face of the surprised person was only matched by the joy on my child's face when she realized she had impacted someone in a positive way by doing something relatively simple. Now, she's addicted to the feeling and is drumming up lists of other little things she can do to make someone's day better.
Sharp's story of how happy Cassidy and her grandfather's small gifts made her only motivates us further.
She ends her post saying, "You have just completely made my day, if not my year you inspirational girl and I'll keep the note forever and look at it every time I feel I'm having a difficult day. And you're right, we absolutely do."
This article was originally published on