This Girl Scout Had A Genius Idea On Marijuana Legalization Day In Canada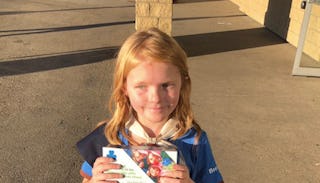 Image via Seann Childs
Canada legalized recreational marijuana this week and this Girl Scout is one smart cookie
Do you ever hear a story and think to yourself, "This kid is going to be someone, someday?" Please meet Elina Childs. She's nine years old and when she needed to sell her Girl Guide (the Canadian equivalent of Girl Scouts) cookies this year, she did so in a place guaranteed to bring in all of the sales: outside a dispensary.
Canada legalized the use of recreational pot this week and with that, Childs' business plan sort of made itself. The little (and now viral) cutie planted herself right outside an Edmonton dispensary on Wednesday with her dad and (to no one's surprise) sold out of all her cookies in about 45 minutes and made about $120, her dad, Seann Childs, tells Scary Mommy.
"When this started out we just wanted to sell the cookies quickly because as parents we all know how much spare time we have," he said. "In the past door to door did not work that well and we even ended up purchasing a case in the past because she did not have time to sell them."
Enter a whole bunch of people who were in prep mode for the munchies and were enduring a four-hour long wait to get their goods and voila — problem solved.
Childs said when they got there, the lines went around the block (because, duh), so Elina jumped out and went to work. Her dad thought nothing of it and said they gave a quick interview to a local news station who was there for the opening. The next morning, however, Childs said his phone was "blowing up with requests for interviews From CNN, BBC, the Guardian UK, CTV, CBC, Associated Press, and a few others," who'd seen Elina's genius sales plan.
So, what does the little entrepreneur think of all this attention? "All in all, Elina has done very well through all this," Childs said. "We used it as a teaching moment so we could explain Cannabis to her and the laws surrounding it." Elina has Cystic Fibrosis, and her dad says she already has a good grasp on healthcare and the difference between prescription and non-prescription medication.
Childs said he's very proud of his daughter and we have a feeling this won't be the last we see of Elina. At a minimum, we know where she'll be next year when it's cookie season.
"She has been enjoying her time in the spotlight and all the encouragement she has been getting from the people that were in line and all the positive feedback online," he says. "As a parent, I am very proud of her."
This article was originally published on