This Girl Scout Staring Down A Neo-Nazi With A Smile Is Your New Hero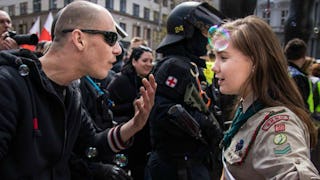 Image via Vladimír Čičmanec/Facebook
"The message was, 'we are tired of your hate and pessimism.'"
There might actually be one good thing to come out of the uptick in racism and nationalism that seems to be sweeping the globe: a generation of kids willing to stand up to that kind of bullshit.
An extremist right march in the Czech Republic was disrupted this week when protestors set out to interrupt Neo-Nazis' message with art and games. One group to participate was the Scouts and Guides of the Czech Republic, including a little girl named Lucie, who's going viral for a photo that shows her engaged in an argument with one of the extremist marchers.
The photo, snapped by local man Vladimír Čičmanec, was shared on the World Organization of the Scout Movement's Facebook page, along with this message: "Lucie, a Scout from Junák – český skaut, in discussion with a supporter of extreme right movements, in Brno (#CzechRepublic). People from all walks of life, and #Scouts among them, came to the streets during an extreme right march yesterday, to express their support for values of diversity, peace and understanding. Creating a better world!"
The image was also shared on Twitter, along with a few other angles showing the sign Lucie was holding at the march, which read, "We will raise your children," a motto of the Scouts and Guides of the Czech Republic.
Anička Čámská, a local member of the scouting organization that Lucie belongs to, wrote on Facebook with some more information about why they decided to protest the march.
"There was some kind of far-right march, so a bunch of people went there as well to protest in a peaceful way — they were dancing and painting. Later, more people came to protest against neo-Nazis with drums and so on," she wrote.
She continued, "Whole point of the protest was to enjoy the first day of May, which is also the traditional day to celebrate love and spring. The message was, 'we are tired of your hate and pessimism.' I think we, members of scout movement, can relate to that, no matter our political views."
All of us can relate to that.
H/T: Mashable