3 Girl Scouts And Supervisor Were Killed In Hit-And-Run While Cleaning Highway
by Thea Glassman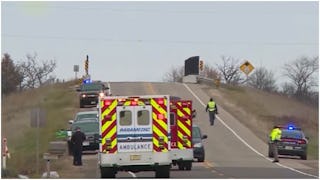 Image via CBS Philly/YouTube
A group of girl scouts and their supervisor were killed in a hit-and-run
On Saturday morning, four girl scouts and their adult supervisor were cleaning up a ditch in Wisconsin. A pickup truck hurtled off the road and slammed into the group, killing the adult, three of the girls, and leaving one other girl in critical condition. The driver promptly fled the scene.
The girls were in fourth grade, according to USA Today. They were wearing bright safety vests as they picked up trash from the ditch. Two of the girls were killed immediately by the vehicle and the third died after being transported to the hospital. Their names haven't been released yet.
Sgt. Daniel Sokup, who works at the Lake Hallie Police Department, said that the location the girls were working from wasn't "an unsafe area" and there weren't any blind spots. The driver responsible for the deaths – 21-year-old Colton Treu – turned himself in to the police and faces charges of four counts of homicide through the negligent use of a vehicle.
The Girl Scouts of the Northwestern Great Lakes posted the heartbreaking news on their Facebook page, and noted that there would be updates on ways to help the families impacted by this awful tragedy.
"It is with profound sadness that we share the news of a tragic loss in our Girl Scout sisterhood," the post read. "…[We] ask that you please keep the Nokomis Service Area volunteers and families in your thoughts and prayers as they grapple with this senseless loss."
This is the latest in a string of absolutely horrendous car accident stories. Just last week, a 7-year-old in Pennsylvania was killed by a driver while he was waiting for his school bus. The driver kept going, leaving the little boy to die on street.
Two days earlier, three siblings were struck and killed while boarding their school bus. The driver just flat-out disregarded traffic laws and refused to stop behind the bus. "I just can't imagine that pain," Sgt. Tony Slocum, from the Indiana State Police, said. "I haven't seen troopers cry in a long time, but I saw that today."
Here's hoping this serves as an incredibly, incredibly important reminder to drivers to always obey traffic laws and never get reckless behind the wheel. Sending so much love to the families who are living through these horrendous tragedies.