These Girl Scouts Styled As Their Female Role Models Are The Definition Of Girl Power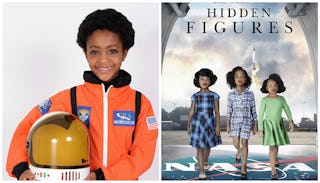 Via Girl Scouts of USA and Tricia Messeroux, Creator of Toddlewood
"It's important they understand that girl power isn't just a saying — it's a movement."
As a Mother's Day tradition, Tricia Messeroux, photographer and creator of Toddlewood, dresses little girls up like famous mothers from history and has a photo shoot.
It's something Messeroux loves to do — in addition to her regular photography business, she regularly holds shoots where she styles young girls after celebrities, movie posters and red carpet looks. So when she was approached by the Girl Scouts of America, who had an idea for a collaboration to celebrate Women's History Month, Messeroux was immediately on board.
"Of course I jumped on it because I thought it was a great idea," Messeroux told Scary Mommy, of the organization's idea to style young Girl Scouts as strong women from history. "They had a small list in mind but I presented them with a much bigger list and we together collaborated with who we ended up with."
Messeroux said two things were important to her in choosing the women she would style the Girl Scouts as.
"These women had to be trailblazers. They had to be women who opened doors and made a difference for kids and women today," she explained. "The other thing we really thought was important was to be able to cross industries. We're looking at designers, aviators, entrepreneurs, politicians, you name it. There's a place for every little girl to relate to because around this Girl Scout age, these girls are thinking about what they want to be when they grow up. They're saying, when I grow up, I want to be 'blank.' They're able to fill in the blank because of these women."
The result? Stunning images of girls, ages 5 to 7, looking just like their role models.
There's Mae Jemison, the first African-American woman to go into space.
Some of the girls were dressed as Katherine Johnson, Dorothy Vaughan and Mary Jackson, three African-American women who pioneered NASA (and the focus of the Oscar-nominated movie Hidden Figures).
There's Amelia Earhart, the first woman to attempt a solo flight across the Atlantic:
And iconic producer, comedienne and actress, Lucille Ball:
Cuban performer Celia Cruz:
And American entertainer Whoopi Goldberg:
Diplomat Condoleezza Rice:
Former First Lady, Secretary of State and presidential nominee Hillary Clinton:
Iconic designer Vera Wang:
Philanthropist Madam CJ Walker:
And, of course, there's a nod to the Girl Scouts' past with a tribute to the organization's founder, Juliette Gordon Low:
Messeroux did casting for the shoot herself, and the only requirement was that all the girls involved be active members of the Girl Scouts. She hopes to make the collaboration a yearly event for Women's History Month, which takes place every March.
Messeroux, who has 6-year-old and 11-year-old daughters of her own, says this shoot showed that she hears girls when they say they want to change the world.
"Having two girls and being surrounded by girls all the time, you hear them," she said. "They say things like, when I grow up I want to be… They're dreamers. They have hopes and they have inspirations. The biggest thing I want them to take away is because these women fought for their right to be where they are, they opened the doors for girls today, in 2017 and beyond, to be able to do what they want to do."
Messeroux continued, "It's really important for girls today to know that regardless of what's going on in the world, you should fight for what you want to do in life and you will be successful. It's important they understand that girl power isn't just a saying — it's a movement."