Teen Girl Kicked Out Of Prom For Wearing Tuxedo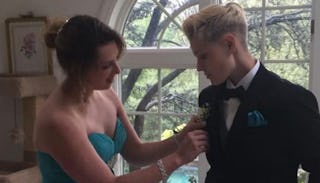 Photo via Aniya Wolf / Facebook
Girl wearing tuxedo not allowed to attend her prom
Prom is one of the most memorable parts of high school. Teens can spend weeks finding the outfit that will make them feel beautiful for a night of shenanigans with their friends. A Pennsylvania girl had those moments ruined when her school refused to admit her because they didn't approve of the fit she felt most comfortable in – a tuxedo.
Bishop McDevitt High School officials decided discrimination was a lesson Aniya Wolf and her classmates needed to learn on the night of the prom. A school official at Harrisburg Catholic school grabbed the teen by the arm when she arrived at prom and told her she wasn't allowed to go in because she was wearing a tux, Aniya told ABC27. The school even threatened to call the police if Aniya didn't leave, the teen said. How detached from reality are you if calling the cops over a prom outfit sounds like a good idea? Schools often insist on dress codes because they think controlling what a student wears will influence their behavior, but this situation is so far beyond ridiculous it is shocking.
And even after feedback from all over the world has poured in supporting Aniya and slamming the school, officials are sticking by their decision to discriminate against Aniya. They claim that they're right to alienate her because they sent a letter in February saying girls must wear formal dresses. Just because you send a note highlighting your narrow-minded thinking doesn't mean your hateful actions are acceptable. The worst part is that the school knew Aniya was planning on wearing a tux well before the prom and instead of saying, "cool, you do you," they forced their bigoted perception.
School officials reached out to Aniya's mother, Carolyn Wolf, and asked her to force her daughter to wear a dress instead of a tux. "We had gone out and bought a new suit. I think my daughter is beautiful in a suit," the mother said. She did look gorgeous as evidenced in her prom photos taken at home. More importantly, she felt comfortable because she's only wore pants to high school for three years. "I've always been like this, ever since I was little," Aniya said. "I think my experience shouldn't be any different than anyone else's because of something I was born with."
Clearly this girl knows how love and acceptance works. It's awful that the grown adults in charge of her education don't. Aniya said her classmates welcome her as she is but that school officials made her feel like "a mistake." The school stands by their decision, claiming they didn't target the teen, but Aniya didn't see it that way since several of her classmates were allowed into prom even though their dresses might not have followed the school's dress code. "You know, a lot of girls' dresses, I mean I'm not saying that all of them are this way, but they do show a lot of skin," she said. "I think I'm dressed pretty modestly."
The teen didn't let the principal's insanity destroy her spirit. "Sadly I was not admitted into the Prom," she wrote in a Facebook post. "They can't take my pride."
This article was originally published on