6-Year-Old With Down Syndrome Rejected From Dance School, Their Loss
by Jerriann Sullivan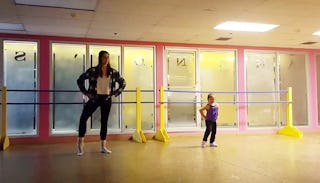 Video of the little girl with Down syndrome dancing is going viral with more than 100K views
"Keep calm and dance on" is a fitting motto for one amazing little girl with Down syndrome. The 6-year-old was rejected from a local dance company that is surely regretting their decision as a video showing her incredible dance skills goes viral.
Ana Malaniuk of Edmonton, Canada dances to a mashup of Walk the Moon's "Shut Up and Dance" and Whitney Houston's "I Wanna Dance With Somebody" in the video that has been viewed more than 100,000 times. But before Ana was busting several fabulous moves, she had a hard time finding the right place to dance. Sonja Malaniuk, Ana's mom, said her daughter was turned away from an Edmonton studio. "We were told she wasn't welcome, she wasn't to their standards," Sonja told Global News.
What dance studio doesn't admit a 6-year-old? They aren't auditioning for the Royal Ballet School anytime soon, so it's ridiculous to reject a young child based on unnecessary "standards." Thankfully the minor setback didn't deter Ana or her mom. "She always liked dancing when the music came on, she liked the beat so I said, 'Let's give it a shot,'" Sonja said.
Another local company with a more rational take on children's dance was happy to have Ana and welcomed her with open arms. "I just feel that it's very important that any little girl or boy who wants to dance should be able to dance and be given the opportunity," said Amanda Desousa, who has owned Amanda's Academy of Dance for 15 years.
The company has a special program for children with different abilities, which Desousa said is great for the kids, instructors, and other students. "She's such a joy to have in class," Ana's teacher Shae-Lyn Bates said. "She's helped me grow as a teacher,"
Ana has grown tremendously too. "She's met so many friends," Sonja said. "To see her on the stage, to see her with the teachers, to see her happy… It's amazing to see that people are willing to give her a chance."
Watch Ana's awesome dance moves in the video below.
This article was originally published on