7-Year-Old Makes A Wish, MLB Teams Line Up To Make It Come True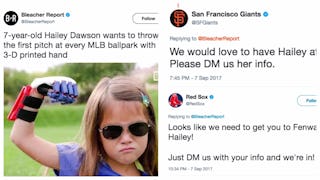 Images via Twitter
She will be throwing out pitches at every major ballpark in no time
A little girl with a prosthetic hand has a big dream — to throw out the opening pitch of the game at every MLB ballpark in the country. Thanks to the power of social media, it looks like her dream is about to come true.
Hailey Dawson is a seven-year-old from Nevada who loves throwing fastballs. According to Las Vegas Now, Hailey was born with Poland Syndrome, causing her not to develop chest muscles on her right side, stunting development all the way to her hand. She is missing three fingers on her right hand, but that hasn't stopped this brave girl from being an a super active kid.
When UNLV students learned of Hailey's condition, they stepped up in a big way, using a 3D-printer to create a new hand controlled by fishing line. Some robotic prosthetics can cost upward of $15,000-$20,000 and need continuous adjustments or even brand new ones as people age, but thanks to UNLV, Hailey's family got hers for just a couple hundred dollars.
Her hand allows her to participate fully in all things little girls love, which includes her biggest passion – baseball. In fact, Hailey taught herself how to hold and throw a ball. But that wasn't enough – she now wants to use that hand to throw the first pitch in every single stadium in the National Baseball League.
Bleacher Report posted a video on Twitter sharing Dawson's story with the caption: "7-year-old Hailey Dawson wants to throw out the first pitch at every MLB ballpark with her 3-D printed hand."
It didn't take long for MLB teams to watch the video and start reaching out. Teams posted invitations one after another to have Hailey come to their stadiums to throw the first pitch at their games. And not just major league teams, minor league clubs and some college teams joined in to offer up their ballparks as well.
According to her Twitter page, Hailey's Hand, she has already thrown out the first pitch at the Baltimore Orioles and Washington Nationals' stadiums but judging by the offers from so many teams, Hailey and her family will be busy for many, many months to come.
This article was originally published on