These Excited Little Girls Dressed As 'Wonder Woman' Will Make Your Day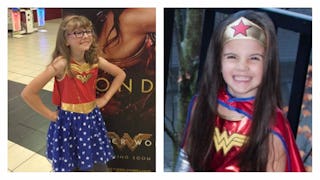 Image via Twitter
Girls everywhere got into the super spirit by dressing as Wonder Woman at showings of the new movie
Little girls everywhere responded to the big screen debut of the most famous female superhero by donning versions of her iconic outfit on trips to the theater.
You don't need to be wrapped in Diana Prince's golden lasso of truth to admit how adorable it was.
There's no better evidence of how necessary the long-awaited premiere of the new Wonder Woman movie was – the superhero's first standalone movie in her more than 50 years of existence – than these pictures of kids getting all Amazoned up to welcome her to Hollywood.
Everyone got into the spirit, from the offspring of Academy Award winning actress Viola Davis:
To a little girl from resilient Manchester, England:
To this thrilled kiddo with the perfect purse for the occasion:
To moms themselves:
Female audiences starved for representation have been waiting for this movie a long time, and so far, by most accounts, it seems they got it right. Out here in the real world there is no shortage of female heroes – just ask the mayor of Austin, Texas – and after more male-based superhero movies than even the ladies from Hidden Figures can count (yeah right), it's high time little girls got to see an example of girl-powered, super-heroism heroics.
Apparently, Ellen agrees.
Of course, it's not just women who were waiting. Wonder Woman is the first superhero I remember emulating, spinning around on my front lawn like Lynda Carter. Unfortunately, no tiara manifested at the end of my twirls. Not until recently, at least.
I'm not alone either. Plenty of boys, young and old, are just as excited for this movie as our female friends.
But this isn't about the boys, is it?
It's about girl power.
And power is exactly what Wonder Woman has, with the film cracking $100 million over the weekend to become the highest-grossing film ever by a female director. Whether you're a boy or a girl, from Krypton or Themyscira, that's news worth celebrating.