Girls Scouts Of Greater Iowa Lets Moms Bring Their Babies Into The Office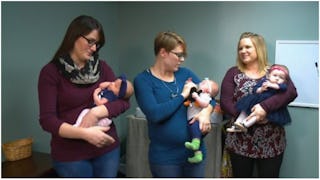 Image via Stitch/Twitter
The Girls Scouts of Greater Iowa are letting new moms bring their babies into the office
Life just got much more mom-friendly for the moms who work for The Girl Scouts of Greater Iowa (GSGI). The organizations's new pilot program, "Infants-at-Work," allows moms, dads, and guardians to bring their babies to work, every single day, up until they turn six months old or start crawling.
GSGI says they're trying to make new moms' lives a little bit less stressful. Instead of missing work to look after their newborn or paying a ton of money for hired help, the organization wants their employees to feel free to spend time with their baby, while still bringing home a paycheck.
"With the Infants-at-Work program, we're supporting parents in their transition back to work, and creating a space where having children and advancing your career can happen simultaneously," Beth Shelton, GSGI Chief Executive Officer, explained on the organization's website. "This program is also a great way for us to attract and retain amazing talent, support women who choose to nurse, and support babies in a developmental period of importance."
The first baby to come on-board is 14-week Finley. She's joining her mom Chelsey DeRuyter on the job, who told Good Morning America that it's been "an amazing experience." The new mom admitted that she was nervous that she'd have a hard time juggling work and parenting – but she's ultimately been very productive.
"It makes me feel extremely empowered to be both a mom and a person with a successful career," DeRuyter said. "I love being with Finley during these important milestones while being at a job that I love."
There are four more babies coming over the next couple of months, which means there will be four more pint-sized honorary members of the Girl Scouts of Greater Iowa. The organization has already figured out a plan for fussy babies and employees who don't want to be distracted by the influx of newborns. Shelton noted in a blog post that they've spent hours developing this program, sharing drafts with staff, and the addressing concerns of employees.
"We know babies cry. We know they need attention and care and diapers and quiet places. And yes, we also know that productivity will dip for parents who are multi-tasking with their infant present," she wrote. "But we also know that we want to attract and retain talented employees, provide economic savings for employees, and support employees in their transition back to work."
Of course, if the United States actually had a fair, sweeping maternity leave policy then employers wouldn't have to come up with programs like this. In 36 other countries, mothers are given *paid* fifty-two weeks leave. In the U.S., we're typically given a standard six weeks of disability and then it's back to work. According to NPR, 40% of moms are not covered by the The Family and Medical Leave Act, which means that they can take time off to look after their newborn – but can't guarantee that their job will be waiting for them when they return.
So, basically, giving lots of applause to the Girl Scouts of Greater Iowa for trying to make working moms' lives easier – but also here's hoping that this broken maternity leave system is fixed so we don't need programs like this.