Little Girls Open Teddy Bears With Their Late Grandpa's Voice, Internet Weeps
by Jerriann Sullivan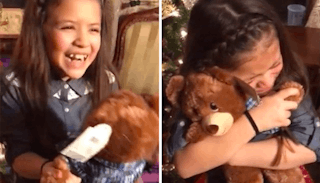 Image via Jennifer Ramos/ Twitter.
Toy bears had a personal message from their grandfather inside
Knowing her nieces were devastated after the loss of their grandpa, an aunt made them teddy bears with their late grandfather's voice for Christmas. When they pressed play, the girls heard a personalized message and an inside joke just for them from their grandfather. We're warning you now, the video of them getting the teddy bears has made the internet cry. Grab the tissues now.
Jennifer, Mariana, and Sarahy Ramos from Oklahoma were heartbroken when they lost their grandfather Florencio Jimenez unexpectedly last year. While at a car wash in Oklahoma City two men allegedly robbed Jimenez, which caused him to have a stroke. He passed away the next day at a nearby hospital. Thankfully police caught the alleged robbers and charged them in Jimenez's death. But the pain from the loss of a loved one doesn't just go away, and the three girls have been missing their grandfather tremendously.
"We're used to having my grandpa around for the holidays," Jennifer told BuzzFeed News. "It's been really sad for us not having him." Which is why their Aunt Andrea made sure to create a special gift for the youngest girls that would help them remember their grandfather. The family got together on Christmas Eve and big sister Jennifer captured the moment when her sisters opened their new toys. Watch it in the video below.
Mariana and Sarahy each received a teddy bear that had individual audio messages from their grandfather inside. Mariana opened her toy first and screamed in excitement when she saw it was a bear. You can hear her aunt tell her to squeeze it.
When she did, the little girl heard her grandfather's voice and burst into tears while clutching the bear. Sarahy opened her bear next and was excited and moved to tears at the sound of her grandpa's voice, too.
Jennifer told reporters that her Aunt Andrea had used audio from videos the girls had filmed with their grandfather right before his death. Hearing their grandfather's voice again was undoubtedly moving, but each audio recording also included an "inside joke" unique to the little girl, Jennifer explained. Their aunt also ended each message with their grandfather's notable laugh. "I think that's what got them, his laugh at the end," Jennifer shared.
Losing a loved one is always hard, but the holidays can make the pain even worse. It's the time of year we gather with our families and bask in joy (and presents) for days. Having a special toy that celebrates their grandfather and brings him back even just for a moment is a priceless gift and experience for these girls. Jennifer said her sisters will never forget their grandfather's voice. "They both thought it was just a teddy bear, but it was a bit more special than that," she shared.
The moving story and moment were shared on Twitter, where it went viral and was retweeted more than 67,000 times. Another 105,000 users loved the post. Most people were moved to tears.
And a few even shared selfies showing the girls how moved they were by the Christmas Eve video.
Nothing says Christmas like an amazing gift and a good cry.
This article was originally published on