Gisele Fetterman: The Second Lady Of Pennsylvania — And The Mom Friend You Want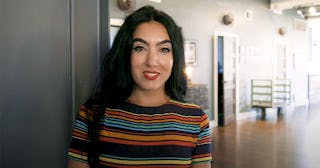 PennLive/Youtube
Gisele Fetterman came to America as an undocumented immigrant at age seven. Now she and her husband John live in a converted car dealership, whose open floor plan allows their kids Karl, Grace, and August to tear through on bikes.
Her network of Free Stores help people in need with the dignity and respect they deserve.
Her Instagram feed highlights clean-ups of historically Black cemeteries.
Her gorgeous dresses are thrifted.
Her game day shirt says, "I JUST HOPE BOTH TEAMS HAVE A GOOD TIME."
Gisele Fetterman's that mom friend you wish you had.
Gisele Fetterman's also the wife of Pennsylvania Lieutenant Governor and Senate candidate John Fetterman — the self-proclaimed SLOP (Second Lady of PA) — and that converted car dealership isn't in Harrisburg, but the small, rust-belt town of Braddock, which mayor John famously revitalized through sheer willpower and community outreach.
She radiates so much sweetness that it's easy to forget: Gisele Fetterman may have been born in Brazil, but Braddock's steel mill could have made her backbone.
Born An Undocumented Immigrant
"My mom, I think, was adventurous," Gisele says. "She came with two kids, no English, no job, didn't know anyone, but was searching for hope and for opportunity." She explains that, "My mom got tired of the violence in Brazil. She didn't want it to be normal for my brother and I." One night, while having dinner, her aunt told her mother that she'd only been robbed seven times that year. She worried that Gisele would grow up to talk about violence like that: like it was normalized, like it was part of life's everyday landscape. "She came home with a suitcase and said, 'Pack your favorite things, we're going on a trip.' I was seven, I was about to turn eight. It was hard for me to pack … at that age, everything feels really important."
They arrived in New York, settling in Queens. Her mother, who had a doctorate, cleaned hotels and houses, learning English on a Walkman. Gisele took ESL classes. She says she learned, "You can always start over. Never feel trapped. My mother, in Brazil, had a Ph.D. and ran hospitals. Overnight, she cleaned hotels and houses. You just keep going."
Gisele received her green card in 2004, and became a United States citizen in 2009.
How She Met John
Gisele Fetterman had put down roots in Newark by 2007. She had a job; as a single woman, she'd bought a house. But while on — of all things — a yoga retreat in Costa Rica, she read a story about "a new young mayor" who was trying to revitalize a town that had been abandoned. "I really couldn't understand abandonment, how you could walk away from your home and leave wedding albums and your children's clothes… but that's what happened here," she explains. "Over 90% of the community left overnight, leaving all their belongings behind."
She came back from Costa Rica, but she couldn't stop thinking of Braddock. Gisele had always loved the Brooklyn Bridge when she lived in New York City, and she learned that its steel had actually come from Braddock's mills. "That was a sign," she says. "We Brazilians, we believe in signs. So I wrote a handwritten letter to the borough sharing the work I was doing" — at the time, she was working on food access issues and had her own nonprofit — "and said I wanted to visit and understand, see it up close."
John got the letter, called her, and they were married a year later.
"It's one of those things, it just happened… I got here and I felt a real connection to the community and the story. I fell in love with Braddock and then we fell in love."
As soon as she walked into the car dealership that became her house, she says she knew it was home. "For us, it was more about challenging the idea of what is of value. This was an abandoned space, just like my community was an abandoned community. Just like many people feel abandoned. It's challenging that idea of what has value."
We had started on unconventional houses and moved on to something very, very different.
"Why did someone decide that this building didn't have value? Or this person, or this demographic? Or this community? I don't like that anyone decides what's a weed. I find the most beautiful flowers, and everyone's like, oh, those are weeds. Like, who decided that? They're beautiful."
"But it's this idea of constantly challenging this idea of value. There is value in all of us, in all these spaces and all these places. But mostly in all the people."
Her Advocacy
Gisele Fetterman calls The Free Store "my baby non-profit." "So many people have so much, and so many people have so little, and we live in the same community sometimes… so we can find a way to bring those people together. Living in New York, all my furniture came from the curb. Moving here from a country that had so much poverty and seeing the excess — I remember as a kid being shocked." She says that as a kid, she asked her mom why, if there were so many hungry people, restaurants and grocery stores were throwing out food, or why people had put furniture on the curb.
She still has some of that furniture in her house.
"I was a math major in college before I studied nutrition, and with my ADHD brain, I want things to add up. And it didn't add up. Like, we throw 40% of our food in the trash, one in seven are hungry." The Free Store, she says, grew from this: "It was taking this experience of me as an eight-year-old child shopping for furniture on the curb and seeing firsthand how food pantries work." She explains that many places require people to prove their hunger by, for example, providing tax returns, unemployment, or a pay stub.
"You have to go through all these steps that are very dehumanizing for a family already in pain. The Free Store pushed against that and created a space that was really dignified and really welcoming and that said, 'We believe you.'" She explains that even many diaper programs make people fill out forms, sign up, and wait. "But if your baby needs diapers, they need them now! So families come and they shop for what they need — I think a big part of dignity is choice. We want families to have a shopping experience."
She says in the beginning, it was a lot of her reaching out and "annoying people" who were still throwing things out. "Like, hey, remember me? We talked about this last week?" But now, Gisele Fetterman says they generally call her, and names Whole Foods, Costco, and Trader Joe's as partners. They feed, she says, hundreds of families — not on expired food, but on extra food, food no one bought.
How does this all affect her kids? She laughs and says she went into labor with August at The Free Store, so at least one of them was almost born there. "I always say my dream for them is to grow up and be kind and happy. And they get it. My son will say, 'Mom, I don't really love this sweater, but it's in really good condition. You can take it to The Free Store.' They know that we would never donate something that isn't in good condition. All they've ever known is this work… so they're thoughtful."
Working With Different People
Gisele says that she works hard to relate to everyone — not just people who agree with her. "I have to listen," she says. "I regularly have conversation with people in parts of the state where they'll say, 'Well, I have no issue with you — you're pretty and you do good work — my issue is with all the other immigrants.' I believe in redemption, I believe in second chances, I don't believe in writing people off. And in the moment, I have to find a way to connect with people who see you as inferior just for existing. And that's hard."
She says that she gets more hate mail than John. While she's now generally recognized, Gisele Fetterman says that in the past, she was often mistaken for her own children's nanny or John's maid. "I can go home and cry about it. I can't be mean. Or I can make it funny, and possibly make it a lesson."
She tells a story about a woman at the pool saying her children were so lucky to have someone teaching them another language. Then the woman dropped the bombshell: when they were looking to "hire help," they couldn't find anyone like that, and weren't her kids lucky? Gisele says she got a lump in her throat, but simply said, 'Thank you, I hope they keep me around" — knowing the woman would quickly realize her kids belonged to her when they started yelling "Mom, Mom, Mom!" every two minutes. The woman quickly apologized. "We were both able to walk away with dignity, which I think is important when you're learning. You don't want to shame someone."
People often call her brave for her choices. All her children were born at home, water birthed with the same midwife and doula. "That's not brave," she says. "Maternal outcomes for women of color are horrendous. My mother has an accent —it's so beautiful — and I very much wanted her with me in the room, and I was honestly scared of how I would be treated. Like, that was the main deciding factor to homebirth."
"I breastfed as much as I could. But like, that's hard! Then there are the critical moms, and it's like, guys, it's all hard. Breastfeeding, formula feeding, it's all hard. Stop being so mean to each other about it."
Gisele shakes her head. "It's really easy not to be mean."
If anyone can teach people that, it's her.
This article was originally published on