Fill Those Amazon Boxes With Donations To Goodwill And They Ship For Free
by Jerriann Sullivan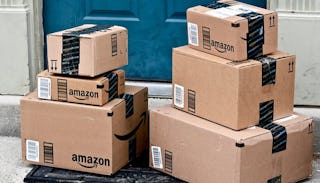 Image via Shutterstock
Give Back Box pays for the shipping on your donated items
It's the time of year where Amazon boxes start piling up, but now you can use your stack of cardboard to help others. Thanks to the organization Give Back Box, you can pack one of your old delivery boxes with items you've been meaning to donate and ship it off to Goodwill free of charge.
The free shipping program encourages people who shop from a variety of retailers to reuse the box their new purchase arrived in. Say you order a dress from Amazon. When the box arrives, you can pack it with some old dresses (or any other donation that isn't an electronic), print a shipping label for free from GiveBackBox.com, then drop it off at a nearby post office or UPS store. If you're too slammed to make it out of the house, just request a pick up when you download the free shipping label then leave the package outside for your mail carrier to pick up. If you don't have a printer, don't fret. Just bring your box to the closest UPS store, and they'll send it for you.
The boxes filled with donations go to the nearest Goodwill, which if you don't know is an international nonprofit. And all the money raised from the donated items goes back into community programs like job training. Last year alone Goodwill helped 35 million people access online training. So not only are you reusing your cardboard box, but you're also being a helpful member of society. And you didn't even have to put on pants.
The program should help us avoid the extreme guilt that comes after shopping online while drinking wine. Not that I'd know anything about that concept. And those retail giants we're always ordering from are pitching in to help cover the bill. Amazon's paying some of the costs of shipping as a sponsor for Give Back Box. Other sponsors include Overstock, REI, and Ann Taylor.
But you don't have to use an Amazon or REI box. Grab any old box around the house, pack it, and print out the free label. The organization explained: "Our motto is 'No Box Left Behind, ' and that means by giving a box a second life, you are giving someone the job training they need for a second chance. Additionally, you are helping the planet by recycling the cardboard box." Goodwill recycles the boxes they receive from donated items. And since Amazon alone ships more than 4 million boxes a day we can all afford to reuse our cardboard.
The idea to give back came from a badass lady because duh, of course it did. Monika Wiela was walking down Michigan Avenue in Chicago in June of 2012 when she spotted a homeless man with a sign that read "I need shoes!" When she came back later with a pair of shoes for the man he was gone, but the desire to help those in need stuck with her and Give Back Box was born. "Through this partnership we can encourage millions of customers to donate in a way that's convenient for them," explained Stormy Simon, former president of Overstock. "It's too easy not to participate."
This article was originally published on