Give Your Kids The Gift Of 'Purple Rain'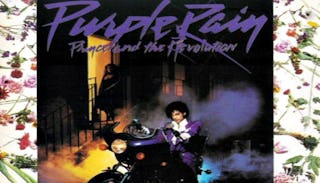 NPG Records
My parents and their friends stared expectantly. I saw the brown bottles in their hands, the smiles on their faces. I struck a pose—hand on hip, arm tucked against my chest. I'd put on my tutu for the occasion. I was fabulous. I sang:
That's when I saw her, ooh [I hit a high note on the oh], I saw her
She walked in through the out door, out door
She wore a raspberry beret
The kind you find in a second-hand store
Raspberry beret
And if it was warm she wouldn't wear much more
Raspberry beret
I think I looooove her
The adults would hoot and clap. I'd take a bow, then make what I had somehow construed as a curtsy.
"Now do the other," my dad coached.
Maybe you're just like my mother
She's never satisfied
Why do we scream at each other
This is what it sounds like
When doves cry
Maybe most people would consider it reprehensible to egg on a 4-year-old to perform Prince songs at an adult party where everyone was half in the bag. And Prince, especially Prince, with his suggestive, subversive, sexual lyrics—Prince of Purple Rain was just oozing sex. And maybe it was reprehensible, sort of. But mostly, it was awesome. I can say that because I'm the one who'd be construed as exploited and what I remember from those sessions was not a feeling of coercion or shame, but a warm glow of belonging.
Most kids couldn't sing Prince. I could. That made me special, a part of something larger. Adults sang Prince. I had something in common with them, and even as they laughed, we all drew closer. I was precocious. I was something special. I had that specialness not by accident, but because my mother and father played Prince for me—or played Prince around me—and didn't worry about the consequences. I recall knowing Prince sang "Raspberry Beret," though, so they weren't totally passive. They rocked out to Prince enough that their 4-year-old knew the words.
And in knowing those words, I joined something bigger. I was also called on to sing Aerosmith's "Love in an Elevator" at parties: "Love in an elevator/ Livin' it up while I'm going' down." I had no idea what this meant. It didn't matter. I knew Aerosmith and never forgot them. Later, I sang along to the iconic "Janie's Got a Gun." Now, I have Aerosmith on vinyl, and I play Toys in the Attic for my kids. I had tapped into something larger than myself.
I never forgot who Prince was, either. I continued to rock out to his songs. I knew who he was when he turned his name into the trumpet thingy and why it mattered. I understood the Eminem lyric in "Without Me": "Ever since Prince turned himself into a symbol." I was a member of the larger pop culture my parents brought to me. None of this would have happened if I hadn't been singing "When Doves Cry" to drunk partiers.
When David Bowie died, I got serious about my sons' Bowie education. We did the obvious ones, the ones with space references: "Starman," "Space Oddity," and the iconic "Ziggy Stardust." They weren't particularly taken with them. But they jumped on the bed to the rhythm and sang snippets of lyrics. Enough snippets that my son told his ukulele teacher that David Bowie was his favorite musician.
They will always know David Bowie. They will come back to him. I gifted them something larger than themselves, a piece of culture and music and soul of our century. I did the same with The Beatles, but it took, especially, "Yellow Submarine." My youngest son screams if anyone sings it but him. My two oldest played it for their ukulele recital—a step up from beer parties.
Impromptu car recitals are not unknown. If asked, my 6-year-old will say The Beatles are his favorite band, and "Yellow Submarine" and "All Together Now" his favorite songs. I snicker when he sings "Black, white, green, red/ Can I take my friend to bed?" It's a gift; he has no idea what it means.
They're also dipping their toes into other Beatles songs. They fight over the precise lyrics of "The Continuing Story of Bungalow Bill" and "Ob-La-Di, Ob-La-Da." My oldest says he's glad I introduced him to The Beatles, because lots of other people like them.
This is why we have to play music for our children. Yeah, it's funny to see a kid sing "Purple Rain." But it connects them to something larger. When Prince died, it meant something to me. When David Bowie passed, my sons had at least heard his name. I play them what I love: The Talking Heads, Phish, The Who. You should push your love. Play your children Ani DiFranco and The Indigo Girls. Give them Tom Waits and Tom Petty. When we do this, we connect them to something else. We bring them together. We usher them into the fold of art. That sort of connection, that's what Prince was about. It's what Prince would have wanted.
Give your kids the gift of Purple Rain.
This article was originally published on