Dear Parents, The Last Thing Teachers Need Right Now Is Criticism
by Rachel Garlinghouse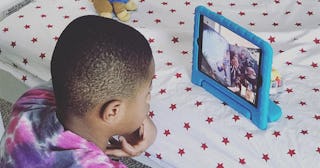 Rachel Garlinghouse/Instagram
I'll cut to the chase here. Teachers are working around the clock, as they always do, to make sure our kids continue to learn during social isolation. I'm getting e-mails during all times of the day and night, including very early in the morning and well into the evening. We have multiple Zoom meetings, Google docs, pre-recorded videos to watch, links to check out, and online learning systems to log on to. Teachers are scrambling to use any means possible to keep their students' educations afloat. So if teachers aren't playin', why are parents complaining?
Like me, you're overwhelmed with this whole home-learning gig. Keeping track of who-does-what-and-when is an organizational nightmare that's making me a little cranky. They are my children and my responsibility; even so, I've grown irritated with the burden of facilitating my kids' educational experience while socially isolated. I'm sighing and griping, unfairly targeting teachers when I'm really pissed at the coronavirus. It's time for a mindset shift. Our teachers need our compassion and appreciation more than ever before.
Schools all across the country have moved to online learning, or e-learning, for students. We're taking the COVID-19 protection guidelines seriously. To date, over half of states have mandated shelter-in-place, meaning non-essential businesses are closed and citizens are expected to stay home unless they absolutely must go out for things like groceries, prescriptions, and medical visits. The goal? We are trying to flatten the curve, stop overwhelming our healthcare system, and most of all, protect ourselves and others. Part of making sure we can stay in is moving our kids' educations to our phones and computers.
Our teachers — with little to no warning — had to say goodbye to their students, convert all of their instruction to fit home-learning during social isolation, and continue to maintain communication with students and parents despite the many barriers. After all, not all students have internet access and devices to learn from. School is their safety net, where they are reliably sheltered, fed, and taught. Some teachers are adapting by mailing hard copies of work to students or offering work pickup hours.
Oh, and of course, many of these teachers are helping care for their own children, elderly family members, and partners. My son's teacher is doing class Zoom meetings with at least one of her three young children on her lap at all times. When his school did a teacher parade—driving by every student's home and honking and cheering—their minivans and SUV seats were full of their own family members. Just like the rest of us, teachers are trying to secure prescriptions and groceries while practicing social distancing. Teachers have their hands full.
Here's the deal. Our kids' teachers aren't the enemies here. COVID-19 is the enemy. I get that sometimes in our frustration over this unprecedented situation, we want to place blame somewhere—or with someone. Sadly, an easy target is our child's teacher who is hitting up our inbox multiple times a day. But guess what? They are caring for our kids in the midst of a global pandemic, in the best ways they can. They always have been, and continue to be, heroes—despite being grossly overworked and underpaid. The last thing they need right now is our unwarranted criticism.
We asked a few teachers what they want us to know about them during this national crisis, and the responses blew me away. Jennifer Davin, a second grade teacher, told Scary Mommy that she's missing her students and worries about their academic and emotional well-being. She noted, "We spend so much time together as a classroom family and not seeing them during an unfamiliar time is hard. I want to tell them everything will be OK and that I will see them again." She went on to share that she loves and cares about her students as if they were her own children.
Kellie Aranowski, another second grade teacher, said it's important that families do what's realistic. Most of us aren't technology experts. When all else fails, she told Scary Mommy, "It's OK to just read a book and practice math facts." She also offered some hope. Teachers, students, and their families will get through this—together.
Seventh grade language arts teacher Ali Cummins says that teachers do not expect parents to recreate school for their children, offering up this gentle reminder: "Everyone is doing the best they can—parents, teachers, and students. It takes a village." Your child's teacher is your partner, not your adversary.
Fourth grade teacher Candace Beachum told Scary Mommy that teachers, like students, are treading new territory, too. She has regularly reminded her students and parents that all they do is their best right now—whatever that looks like. Beachum didn't say this, but I'm going to: Parents, we need to get over ourselves. This situation is hard on every single person.
Why do teachers work tirelessly for their students? Because they truly love our children. They believe in the opportunities a great education can create. They care, deeply and relentlessly. Perhaps instead of complaining, we need to tune out the negativity and turn up some gratefulness.
Think about it this way. We're only doing a small fraction of what our kids' teachers do for them, and look how hard it is. Truth be told, most of us couldn't do what our kids' teachers do. Can we dial down the criticism and whining already? Go blow off some steam by power-walking around your neighborhood (socially distanced, of course). Binge some mindless television. Practice some self-care rather than try to rain on someone else's parade.
We're all in the same boat. Our kids are missing school. And guess what? Missing school isn't the end of the world. The number one goal for all of us right now—teachers, students, and parents–is to stay safe and healthy. Now is the perfect time to model for your children an important life lesson: gratitude.
This article was originally published on