10 Ways to Give Your Kids a 1970s Summer, Part 2
by Melissa L. Fenton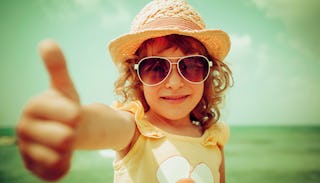 Well folks, the school year is dwindling down and that means ONE thing: What are you doing with your kids this summer?
I asked myself that dreaded question last year around this time, as I glumly stared down the barrel of the summer gun, yet again expected to be my children's full-time summer cruise director, camp coordinator, and academic, theatrical arts, and science-based enrichment activities provider.
Mixed in, of course, would be elaborately planned neighborhood outdoor water parties, and organized play dates where we practiced mindful kid yoga and read 17th century sonnets together. Our rainy afternoons would be filled with Pinterest-perfect craft sessions and mother-directed exploratory discussions on climate change and macroeconomics. All while preparing organic, non-GMO, grass-fed dairy cow grilled cheese paninis on seven grain bread, with a side of baked zucchini fries and artisanal ketchup.
I don't know about you, but during the school year, my family rises at dawn and goes full blast for 15 straight hours. By June I'm in a full-on I can no longer keep this schedule up-induced coma. Basically, WE. ARE. TIRED. And then, at the finish line of the school year marathon comes summer, when the pressure to provide over-the-top summer experiences for our kids rises up to slap us in our already weary faces. Summer is now just another event in the rat race that childhood over-achievement has become. If your kids are NOT building an orphanage in Africa and attending a STEM, soccer, theatre, cooking, dance, archery, crossfit, mathematics, classical music, poetry, meditation, kayaking, and build-your-own-organic-garden camp this summer, then shame on you!
What are you gonna do all day? Pretend it's 1978?
YUP. I sure the hell am.
So I found my memory drifting back to my childhood in the '70s, and as it turns out, it was pretty damn awesome. And it wasn't just me. Last year you may have seen this blog post about the top 10 ways I was going to give my kids a 1970s summer. Moms and dads let out a collective, "Heck YEAH! That was EXACTLY what my childhood summers were like!" We all decided that we were "Over it!" and that it was high time to give the expertly choreographed and über-planned, enrichment-filled summer the big, fat middle finger.
And you did. And so did I.
And so, let's do it again this summer.
Why?
Because summer needs to go back to being SUMMER. Join me, won't you?
1. Go roller skating at the local rink for 12 straight hours, only stopping to drink a Shasta and grab a new piece of Fruit Stripe gum. Music? I got a playlist already loaded on your iPod. Yes, it's entirely possible to skate that long with only Donna Summer in your ears. Trust me hot stuff.
2. Wanna go swimming? Ride your bike down to the creek. No, I don't need to perform a bacteria check of the water before wading in. And no, I'm not loading up a Yeti with cold pressed juices, 10 different types of gluten-free snack crackers, vegan popsicles, and 50 plastic sinking swim rings, then schlepping it down to the neighborhood "pool" with the 70 foot slide, splash pad, lazy river, and smoothie bar. Toys? Catch a tadpole and some lizards. It's swim toys and today's ecosystem lesson all rolled into one. Win-win.
3. Play with actual, real toys. Here is a hula hoop, a frisbee, a jumprope, and a pogo stick. None of them needs to be charged to play with. No, I will not be taking pictures or video of you playing. You don't need an audience for everything. Just. Go. Play.
4. Street lights! See 'em? Come back home only when they turn ON. No, I am not GPS tracking you, texting you, or having SIRI send you a reminder of when to come home. Just watch the lights, kids. ON=COME HOME.
5. Get DIRTY. It's totally OK, and honestly, I 100% expect that you return home completely FILTHY at day's end (or when #4 happens). Go ahead and take that mini bottle of cherry blossom-scented antibacterial gel out of your pocket. See your neck? When there is a ring of actual black dirt wrapped around it like a pearl necklace, you've had a great day.
6. What's for dinner? The Betty Crocker Junior Cookbook. This is how I learned to cook. Not 24 hours a day of chefs cooking on TV. Not my mom preparing every single meal I ate. Just me, Betty, and a can of cream of mushroom soup. I'll expect chicken tetrazzini at 6 o'clock sharp. Thanks kids.
7. Leave all your road trip 'pacifiers' at home. No tablets, pods, or pads. Just the license plate game. Learn it. Live it. Love it. Oh, and this is called a paperback. Go ahead, take a big whiff and smell the pages. I know … fabulous, right?
8. Summer showers. For the next two months, bath time will only be taking place outside and during a rainstorm. Just stand under where the roof gutter pours out the overflow and lather up. Here's a bottle of Prell and a bar of Camay.
9. Make a real and true lemonade stand. No, I am not building it, hauling it, or helping you create signs, a website, a hashtag, a tweet, a Vine video, or a Facebook page for it. I will, however, drive you to Kmart for powered lemonade in a can, Dixie cups, and a piece of yellow poster board. The first person who stops and asks you for a business permit – send them to my door. I'm over 40 now, and have accrued many personal friends who, let's just say, work at the courthouse and in local government. Bring it on.
10. Finally? Sit still. Have no plans. No appointments. No schedule. No agenda. No charts. No lists. No itinerary. And have it that way All. Summer. Long. Embrace your 1970s summer, because being a grown-up? Well, it will be here before you can even imagine. I pinky swear.
Related post: 10 Ways to Give Your Kids a 1970's Kind of Summer
This article was originally published on