Give Your Kids A 1980s Summer — With One Crucial Addition
by Jennifer Tzeses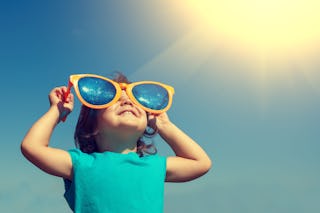 Being a kid in the summer in the 1980s was the definition of carefree — running barefoot in the park, jumping through neighborhood sprinklers, biking to the pool, and tromping around the backyard past sunset. Let's reclaim all that goodness, shall we? Especially after the school year we've all just had, it's time to let kids run free and just be kids. We get a quiet house (at least until they come stampeding back inside begging for ice pops) and the kids get a sunshine-filled 1980s-style summer, including all the psychological and developmental benefits of outdoor play — and vitamin D. Win-win for everybody.
However, we also know the sun's rays can be harmful. Neutrogena's compelling new documentary shines a light on how to enjoy the sun and keep your skin healthy; it reminds us that most radiation damage from sun exposure happens when we're young and is a big contributor to melanoma later in life, so catching rays with proper protection is key. To keep your family (especially your kids!) sun-safe while giving them a wet, wild, and awesome-in-every-way summer, follow these tips.
Make Sunscreen Part Of Your Kids' Year-Round Getting-Ready Routine
Daily sunscreen use has big-time benefits; it can cut the incidence of melanoma in half, says The Skin Cancer Foundation. The American Academy of Dermatology (AAD) recommends that all kids — regardless of their skin tone — wear sunscreen with an SPF of 30 or higher. Look for a broad-spectrum sunscreen, which protects from both UVA and UVB rays (both can cause cancer), and make sure it's labeled "water resistant," especially if your child is going swimming or playing outside on a hot, sweaty day. Not all sunscreens are water resistant, but those that are generally protect for about 40 to 80 minutes before they need to be reapplied. For the most effective protection, apply sunscreen 30 minutes before your child goes outside. Try one with a higher SPF like Neutrogena Beach Defense SPF 70 spray, which makes it easy to get even coverage. This lightweight formula is oil free and imparts UVA/UVB protection in a way that's not greasy.
Let Them Pick Out A Cool Pair Of Shades
Wearing sunglasses isn't just about your kid looking cool: Sun exposure can damage the eyes as well as the skin. In fact, research shows, even just one day in the sun can lead to a burned cornea (the outer clear membrane layer of the eye). Sun exposure over time can cause cataracts (clouding of the eye lens, which leads to blurred vision) later in life. Choose sunnies that provide 100% UV protection — those that block both UVA and UVB rays. Let your kiddo pick out a pair they love — perhaps some aviators to help them rock that 1980s vibe?
Protect Their Skin Even On Cloudy Days
Up to 80% of the sun's UV rays can penetrate clouds, and, according to the American Academy of Dermatology, harmful rays can also reflect off surfaces like water, sand, snow, or pavement, which can increase the amount of UV radiation your child gets. So, no matter the weather forecast, make sure your kiddo wears sunscreen. Neutrogena Ultra Sheer SPF 70 body mist is ideal for year-round use. It helps protect against harmful UVA/UVB rays, and the super-lightweight formula dries on contact and stays put through sweaty play.
Encourage Them To Seek Shade
….but don't foil their fun. Enjoy long, lazy days at the beach and the pool, but encourage your kid to wear a hat (a wide-brimmed one is best). Seek shade when the sun is really beating down, particularly between the hours of 10:00 and 2:00 when the sun's rays are strongest. Teach your kid a clever science-based trick they can use when you're not around: If their shadow is shorter than they are, it's time to find shade.
Stock Up On Rash Guards
Consider breathable long sleeves or pants, which can provide protection from UV rays. Clothing made from tightly woven fabric offers the best protection, and darker colors may give more protection than light ones. Be sure to reapply sunscreen every two hours on exposed areas, especially after swimming, sweating, or toweling off.
Now, get out there and have a totally awesome 1980s summer!