Glamour Puts Amy Schumer On Their List Of Inspiring 'Plus Size' Women, She's Not Happy
by Maria Guido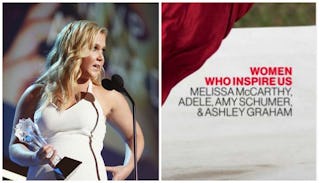 Glamour includes size 8 Amy Schumer in their plus size issue
Amy Schumer was included on Glamour's list of "inspiring" plus sized women for the Special Edition: Chic At Any Size issue. Amy Schumer is a size 6-8, by the way. She's not happy about it, because we all know the worst possible thing you can be called as a woman in this country is "fat." That's not exactly what she said, but we can read between the lines.
First of all, size eight is not plus sized on any planet. But also, when magazines try to be "inclusive" by instead creating this "other" category — it's just so fucking annoying. Do you want to be revolutionary, fashion world? Just start including women of all sizes without the need to create a whole "Special Edition." All "special edition" means is, "we want to make it very clear these women are not accepted by the fashion world, thanks for reading."
Schumer posted about it on her Instagram account, and it's getting a lot of attention:
"There's nothing wrong with being plus size," she writes. "Beautiful healthy women. Plus size is considered size 16 in America. I go between a size 6 and an 8. @glamourmag put me in their plus size issue without asking or letting me know and it doesn't feel right to me. Young girls seeing my body type thinking that this is plus size? What are your thoughts? Mine are not cool Glamour not glamourous."
Actually, plus size is considered a size 12 Amy. You're only two sizes away from tipping the scales like the rest of us. In the fashion world it's more like a size 8. The funny thing is, the size that starts the "plus size" qualification also happens to be the average size of the American woman. Young girls already think your body type is plus size by the way, because they're fucking brainwashed. By stuff like this:
Meet Robin Lawley. The first "plus size" model ever featured on the pages of Sports Illustrated. LOL forever.
Adele, Melissa McCarthy, Amy Schumer… maybe, just maybe these women could be applauded for their accomplishments that have nothing to do with their bodies? I know, I know. It's a crazy thought.
Where did the term come from and why do we need it? Does a size 1 say, "below average sized?" No. Of course it doesn't. Don't you think women can look at the size of their clothes and make enough assessments about those clothes without being told it's larger than other clothing? No shit. And a size 2 is smaller. But no one would care to be labeled "too skinny" because we revere that so much in this country it would never be a thing.
It seems like the fashion world is grappling so hard with just how to include the huge market that is women over a size 10. It's not rocket science, idiots. Just include us. Hire models that are representative of that size, make clothes that are appealing to that size, and let those models on the pages of your magazine without having to add some descriptive quantifier about the size of their thighs.
Need a visual? This is inclusive:
This is not:
As for Amy's reaction, there are worse things in the world to be called than plus size. Chill out.