Glamour Releases 9 Covers For Their 2018 Woman Of The Year
by Cassandra Stone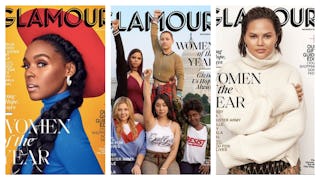 Image via Instagram/GlamourMag
Each of these women has put in major work to move the world forward this year
Glamour magazine has announced its 2018 'Woman of the Year' by offering nine different cover stories to women who have completely changed the social and political landscape this year. Honorees include the women who took down Larry Nassar, the March for Our Lives activists, Janelle Monet, and Chrissy Teigen.
And we are so here for all of them.
"For the past 28 years, the 'Glamour' Women of the Year Awards has honored game changers, rule breakers, and trailblazers," the magazine says on its website. "This year's class of extraordinary females is no exception."
The young, female activists who organized March for Our Lives earlier this year proved they are our country's collective hope for the future. In the face of gun violence and experiencing unfathomable tragedy and trauma, they have bravely helped steer the country from a dialogue about gun sense to fighting for actual change in the legislature. "We knew it was time to reclaim that power and hold it," they tell Glamour. "No one is free until we all are free."
Each of the survivors of the sexual abuse perpetrated by Larry Nassar is featured on another cover. The story of the horrific abuse these girls endured by a physician they were told to trust made the world realize we need to stop, listen, and believe women.
Judge Rosemarie Aquilina landed her own well-deserved cover since she spared not a single savage remark for Nassar during his hearing. She had no time for his bullshit excuses, and literally tossed aside the entire letter he addressed to the court like the trash that it was. Aquilina was the judge those girls needed in that courtroom.
Other Women of the Year featured on the magazine covers are music superstar Janelle Monet, whose art got everyone talking when she released a much-discussed, female-centric music video earlier this year.
And Viola Davis is featured, because, well, she's Viola Davis, damn it. She's been at the heart of so many discussions about how we can better tell women's stories in the film industry, because she's spot-on every time.
Kamala Harris, one of the few game-changers and leaders in our country many people feel they can rely on to represent them, is featured on another cover. "Leaders need to speak the truth, even if it's an uncomfortable truth," she tells the magazine.
Everyone's favorite mom and expert in social media savvy, Chrissy Teigen, landed her own cover as well. "I PROMISE I am going to do what I can to live up to this title and live up to the bar set by incredible women like Kamala, Viola, Janelle," she writes on her own Instagram page. "I am not worthy but I will continue to try to make you laugh, give love through food, and wad the panties of assholes trying to keep you down."
A 96-year-old park ranger for the National Park Service, Betty Reid Soskin, is also a Glamour cover star. "[I] wear my uniform at all times; because when I'm on the streets or on an escalator or elevator, I am making every little girl of color aware of a career choice she may not have known she had."
Manalal Sharif, one of the driving forces (literally) behind Saudi Arabia's campaign to allow women to drive, is also honored as Woman of the Year for 2018. "I was always questioning: Why are there no women leaders? We were invisible in my society, and that bothered me so much."
Each of these women has helped move our country forward with their voices and their fight. They each come from diverse backgrounds and careers, but they've all made a huge difference in their work and many lives across the country and the world.
"They aren't waiting for the world to change," Glamour notes. "They're getting the job done themselves."