GlaxoSmithKline Recalls Nearly 600,000 Inhalers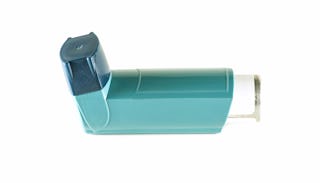 Image via Shutterstock
The recall is due to a possible defect in the inhaler's delivery system
On April 4, pharmaceutical company GlaxoSmithKline initiated a voluntary recall of 593,000 prescription-only inhalers due to a possible defect. The affected units are being recalled from hospitals, pharmacies, retailers and wholesalers in the United States.
According to the Asthma and Allergy Foundation of America, the medication being recalled is Ventolin HFA 200D inhalers. The recall will cover these lots and please note, this is not a consumer-level recall, but it's still important to check if your inhaler is affected.
6ZP9848
6ZP0003
6ZP9944
The potential defect involves the inhaler's delivery system. A GSK representative told the AAFA the recall is precautionary and due to complaints about the overwrap (the pouch that holds the inhaler) "becoming inflated by leaking from the product." The risk is that the leaking could cause the inhaler to deliver fewer doses than shown on the inhaler's counter, leading the user to believe there's more medication in it than there actually is.
Users of the product are being told not to return it and to call GlaxoSmithKline's response center at 1-888-825-5249 if they have questions about their inhaler's efficacy.
A statement from GSK to the AAFA reads, "Though the overall benefit-risk assessment for Ventolin® HFA 200D Inhaler when used at prescribed doses remains favourable, in this situation, there is possible risk to patients of experiencing diminished bronchodilation in the setting of acute bronchospasm if reliant on a rescue inhaler that could potentially not deliver the stated number of actuations. GSK is committed to supplying high quality product and patient satisfaction, and we sincerely regret any inconvenience this recall may cause."
Too long, didn't read? The medication itself is still safe to use, the risk is in the patient thinking they have a certain amount of medication left when they might not due to the potential leakage.
The AAFA says the recall shouldn't affect a pharmacy's supplies of the medication if you need a refill of a Ventolin HFA 200D inhaler.
This article was originally published on