This Mom Napping At Her Kid's Soccer Game Is A National Treasure
by Valerie Williams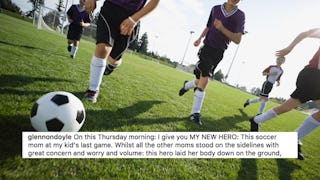 Image via Tetra Images - Erik Isakson/Getty Images/Instagram/Glennon Doyle Melton
This soccer mom catching a snooze is our new favorite person
Every now and then, we're presented with a parenting hero, and today's winner is a mom grabbing a quick nap at her child's soccer game.
The image was captured on the sly by author Glennon Doyle Melton at her child's game, and she shared it on Instagram so we could all bask in the glory. We have no idea the circumstances behind this woman's youth sports nap, but we're in full support.
Maybe she works the night shift. Maybe she's pregnant. Maybe she has a chronic illness or is trying a new medication that's causing her to be drowsy. Maybe she just flat-out wanted a god damn nap. Honestly, the fact that she's snoozing is absolutely not the point, as Melton is sure to note in her brilliant caption.
"I give you MY NEW HERO," she writes. "This soccer mom at my kid's last game. Whilst all the other moms stood on the sidelines with great concern and worry and volume: this hero laid her body down on the ground, her head down on her purse, and her jacket over her face – and napped."
Hell yes she did. In the sunny sunshine, this momma got hers. Frankly, we're jealous.
Melton writes, "Every once in a while, the sideline would wake her and she'd raise her arm and say: yay."
This woman is our spirit animal. Sometimes, the best we can muster up at our zillionth kid's sporting event of the week is an unenthusiastic "yay," and then back to sleep. Good enough.
"Her entire existence said: I'm showing up for my kid. But I'm not gonna pretend I'm not exhausted about it," Melton writes.
There it is. The entire point is: she's there. She came. She showed up. Are there games where this mom is on the sidelines with eagle eyes on every play, cheering and hollering? Probably. But this was not one of those days — and that's OK. She was there. Anyone who judges her for catching a few winks can take several seats.
Melton closed out her post with a toast to our new life coach. "TO WOMEN WHO FREAKING REST WHEN THEY'RE TIRED….Let us know them. Let us raise them. Let us be them. I would like to formally nominate this Soccer Mom Hero as the President of the Women Who Have Run Out Of Effs To Give Club. I salute you."
Here, here.
This article was originally published on