Glennon Doyle's Nonprofit Is Reuniting Families Separated At Border
by Julie Scagell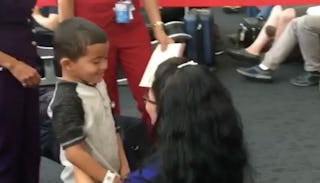 Image via Instagram/Glennon Doyle
Together Rising is a nonprofit aimed at helping women and kids in crisis
Glennon Doyle is a New York Times bestselling author, mother, wife, philanthropist, and public speaker, best known for her book Love Warrior and online community Momastery. But she's also the founder and president of Together Rising, a nonprofit organization which helps women and children in crisis — and what she's doing to help reunite families separated at the border is nothing short of miraculous.
Doyle shared an intimate look at one of the countless families that's finally being reunited while they await asylum in the U.S. She posted a heartwarming video on her Instagram page of a mother and son finally seeing each other after two gut wrenching months being apart. "OUR LOVE IS FINALLY WORKING," she wrote. "THE TIDE IS TURNING."
Doyle shared the video and said funds secured through Together Rising aided in the release of ten parents. One of those, Yolany Padilla, who fled violence in Honduras and is awaiting legal asylum in America, was released and reunited with her six-year-old son Jelsin, who was taken by ICE two months ago.
"It's difficult to explain how I feel because this moment is so big," Yolany said. "It's been so long since I've seen him, just imagine how I feel…It was like my heart was going to leap out of my body."
Just imagine your child being ripped from your arms because you were seeking a better life for him, and for yourself. It's incomprehensible to think of everything this mother, and over 2000 families, have gone through. It's impossible to watch this video and not breakdown in tears, both for what they've endured and for finally being reunited because of the help of strangers.
"You did that," Doyle continued. "You dared to do what many refuse to do. You dared to imagine how it would feel to have your baby taken from your arms and not know if you'll ever see him again. And then you USED that heartbreak. You used it as fuel and you gave."
Not only did the proceeds from Together Rising help Yolany and her son, "YOU PROVIDED BAIL BOND FUNDS FOR EVERY SINGLE IMMIGRANT PARENT IN THE STATE OF WASHINGTON WHOSE CHILDREN WERE TAKEN AT THE BORDER," she wrote. "EVERY SINGLE ONE."
Doyle explained that all funds donated to Together Rising "allow the detained parents to be removed from detention pending the completion of their asylum claims and immigration proceedings, giving parents a much better opportunity to reunify with children-and have children removed from detention-while their cases are pending, which can take up to one year."
If you are able to donate, 100 percent of the proceeds go to families in need. If you'd like to donate, you can do so here.
"Our families are being reunited," she wrote. "YOU DID THIS."