Glennon Doyle: 'We Will Not Rest Until The Children Are Returned To Their Parents'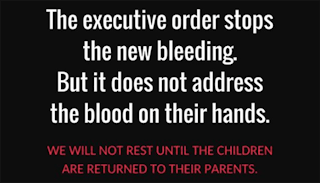 Image via Glennon Doyle/Instagram
Glennon Doyle urges us to continue working on behalf of the displaced migrant children
"The executive order stops the new bleeding. But it does not address the blood on their hands." Powerful words from best-selling author, activist, wife and mom Glennon Doyle shared in response to Trump's latest executive order. You know, the policy of family separation that he enacted — right, well now he's apparently "ending it."
Except there's no end for these immigrant families.
Moving forward, families may not face separation — but what of those who are already torn apart, with hundreds of miles separating mothers and fathers and children? And what is the "solution" for families who are prosecuted for entering the U.S. illegally — family cages?
This is why Doyle is insistent that our work can't stop and our voices can't quiet down.
"The president has just signed an executive order reversing his own policy of mass family separation at the border," Doyle writes. "This executive order was signed because OF YOU."
She says that because we — those of us with hearts, anyway — refused to tolerate the incarceration of children, the caging of babies, and the torture of families, the Trump administration had to end that portion of their policy.
"We need to take a moment to acknowledge your victory," she says. "Okay that moment is over. Because this remains a national crisis and atrocity."
She's right. Because the zero-tolerance policy still stands, and these families are being prosecuted as though they're committing the highest form of federal crime in existence (they're not), families will still be detained while they await prosecution.
Most of all, heartbreakingly, this executive order does absolutely nothing to help the thousands of children who have been separated from their parents and sent to "tent cities" and "tender age shelters" and any other dismal, ill-equipped location that's far too many miles away from the loving arms of their moms and dads.
"We have learned today that children have been flown all over the country – hundreds of miles from their parents, and authorities have said there is a high probability that many will never be reunited," Doyle says. "We learned today that several of the FOR-PROFIT companies that house unaccompanied children have histories of sexual misconduct and other abuse."
Doyle shares that her non-profit organization, Together Rising, "will not rest" until these children are reunited with their parents. "We will not forget about these thousands of terrified children. We will reunify these families."
In my city, 50 immigrant children arrived this week to a local home for children. While the community here as a whole has rallied together to gather supplies and donate time and money to help these children, we still can't give these children what they truly need — their families.
"Every boots-on-the-ground organization with which are in daily contact tells us these babies need advocates to help get them reunified with their families," she writes. "We are going to keep helping the helpers. We are going to lock arms with these organizations and keep walking with them until the babies are returned. We will do this together."
You can donate to Together Rising here.
This article was originally published on