Glitter Birkenstocks Are A Thing And You're Going To Want Them ASAP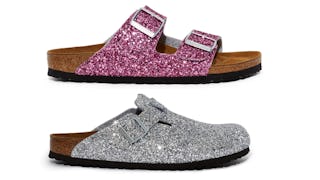 Image via Opening Ceremony
Birkenstocks + glitter = NEED
There is literally nothing comfier or more reliable than a pair of Birkenstocks. They last forever, your feet will never hurt after wear, and they don't give you that gross sweaty feeling you get from sandals.
But what about GLITTER Birkenstocks? Yup, that's a thing — and they look freaking amazing.
Opening Ceremony is launching this new line of sparkly Birkenstocks, which means they're super, super cute even if they're a tad on the expensive side. But remember: Birkenstocks will probably outlive us all. The collection will debut online starting April 2, and features three different blinged-out shoe styles.
First up, we've got the silver clog beaut. It retails at $155 and is just sparkly enough to make you feel like a ~magical~ fairy but not sparkly enough to make you feel too ashamed to wear out in public. Win-win. Also, clogs will never go out of style — no matter how many times people tell you otherwise.
If you're looking for an open toe style, Opening Ceremony is also selling pairs of equally sparkly numbers for $145. They come in both silver and pink, and I'm gonna have to go with the pink option because this is really a go big or go home type of situation.
Annnnnd here they are all together. This is probably exactly how Dorthy felt when she saw those ruby red slippers for the first time. Only, we're going to be so much more comfortable.
If Birkenstocks are definitely your thing, but the glitter is way, way too much for you — there's still plenty of other ways to dazzle up your favorite shoe.
You can go for this sleek, silver number ($134.95), which is just fancy enough that you could probably get away with wearing it on a night out, as long as your friends don't judge too hard.
OR you could go for this dreamy, furry number ($145) that looks so ridiculously comfortable that it could probably (definitely) double as house slippers.
Also, hello, Birkenstocks covered in beautiful, bright flowers ($110). Spring has finally sprung.
Whatever you choose, I hope it involves shoving those painful stilettos a little further back in the closet. Happy feet = happy life.